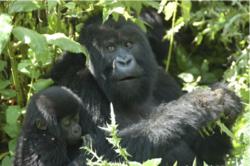 There is no comparable experience to meeting the Mountain Gorillas face-to-face.
Ann Arbor, MI (PRWEB) May 12, 2012
One of the world's premiere and most exclusive wildlife experiences, Mountain Gorilla trekking in Rwanda and Uganda, will soon become more expensive when the cost of gorilla visit permits increases. However, JOURNEYS International of Ann Arbor has secured a limited number of permits at the pre-increase price for travelers who sign up for their Primates and Parrots safari, Dec. 15-28, 2012.
The Rwanda Tourism Board will increase the price of permits for visiting the rare Mountain Gorillas by 50% to $750 per visit for permits purchased after May 31, but used before Dec 31, 2012. Uganda has not yet announced whether it will follow Rwanda's action and also raise the price its gorilla visit permits. Uganda currently charges $500 per day.
Mountain Gorillas are endangered and extremely rare. There are only about 700 Mountain Gorillas and they only live in one place: a rapidly shrinking range in the rugged volcanic mountains on the border of Rwanda, the Congo and Uganda. All of the gorillas are legally protected and the importance of gorilla tourism to the local economy helps to control poaching. However, not all of the gorilla groups are easily accessible or habituated to accepting close viewing by humans. All visits require a permit which are carefully controlled to limit the animals' exposure to human diseases and the stress of human intrusion into their home territories.
JOURNEYS founder and director Dr. Will Weber has visited gorillas in both Uganda and Rwanda. "There is no comparable experience to meeting the Mountain Gorillas face-to-face and eye-to-eye," Weber said. "You see your own primal reflection in their eyes and you know that their shrinking world is also our own shrinking world. You realize that sustaining the gorillas in their limited, diminishing habitat is preserving the wonder and sustenance of our little planet. Their silent peaceful gaze seems to be a plea for the coexistence of all creatures."
The permits allow the visitor to spend approximately one hour with a family of gorillas: about 6 to 30 animals. A maximum of 8 visitors per day are allowed for each gorilla group. JOURNEYS gorilla trips typically include two or more opportunities to visit different family groups. Visitors also typically visit chimpanzee sanctuaries and Queen Elizabeth and Murchison Falls National Parks in Uganda. On the December 2012 special departure of Primates and Parrots, the trip will also include a visit to the Golden Monkeys in Parc National des Volcans.
A few unallocated permits are still available on JOURNEYS custom private trips in 2012. There is a high demand for permits in both Rwanda and Uganda and the permits sell out far in advance of visit dates.
Virtually every traveler on JOURNEYS trips who reserves permits for visiting Mountain Gorillas is successful in spending the allotted hour with a family group. Ranger scouts locate and monitor gorilla groups before allowing visitors to enter the gorillas' habitat. Reaching the gorilla groups involves an early morning trek that can vary from a few minutes to several hours depending on the gorillas' travel patterns.
To learn more about tracking the mountain gorillas of Rwanda and Uganda see the Gorilla Trekking FAQ on the JOURNEYS website.
About JOURNEYS INTERNATIONAL
JOURNEYS International is the longest standing family-owned global ecotourism company in the US. JOURNEYS offers full-service exotic, guided cross-cultural explorations, nature safaris, treks and eco-tours in remote corners of Asia, Africa, the Americas and the Pacific. Founded by current directors Will and Joan Weber in 1978, JOURNEYS boasts an extraordinary record of client and staff satisfaction and several industry awards.