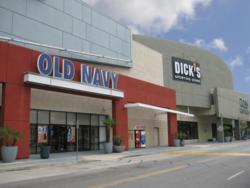 Eastland Center is anchored by a great mix of the nation's top retailers, including Target, which has 15 years remaining on its lease.
Phoenix, AZ (PRWEB) May 17, 2012
Cole Real Estate Investments (Cole), one of the nation's leading investors in high-quality, income-producing retail, office and industrial real estate assets, announced the acquisition of Eastland Center, an 805,000-square-foot retail power center in West Covina, CA, for $147.0 million from The Westfield Group. The announcement was made by Thomas W. Roberts, executive vice president and head of real estate investments.
The center is currently 100% leased and is anchored by several prominent anchor retailers including Target, Burlington Coat Factory, Albertson's, Dick's Sporting Goods, Bed Bath & Beyond, Marshalls, Ross Dress for Less, Office Depot, DSW and PetSmart. In addition, the property includes several specialty retailers and restaurant tenants including Dollar Tree, Carter's, Starbucks Coffee, BJ's Restaurant and Brewhouse, and T.G.I. Friday's. Another major anchor retailer is currently under construction and the tenant will be announced soon.
"This is an excellent addition to our growing portfolio of power centers," said Scott Holmes, senior vice president, acquisitions, multi-tenant retail, who represented Cole in the transaction. "Eastland Center is anchored by a great mix of the nation's top retailers, including Target, which has 15 years remaining on its lease. When you factor in the property's highly visible location in a major market, the ability to own the entire center and being 100% leased, this is a prime example of the type of power center that we continue to target for acquisition."
Eastland Center was originally built in 1957 and has been redeveloped twice, in both 1979 and 1997. It consists of a two-story main building accessible from two sides at grade level, which houses the majority of the anchor and junior anchor tenants, an in-line grocery-anchored community center and eight other buildings that include several junior anchors, shop tenants and outparcels.
The property is situated on nearly 49 acres along a half-mile of frontage adjacent to Interstate 10, and passed by more than 230,000 vehicles per day. West Covina is located 20 miles east of downtown Los Angeles within the San Gabriel Valley area. According to Claritas, there are currently an estimated 449,536 people and 126,121 households within a five-mile radius of the shopping center.
The Westfield Group was represented by Eastdil Secured.
About Cole Real Estate Investments
Founded in 1979, Cole Real Estate Investments is one of the most active acquirers of core real estate assets, managing one of the country's largest portfolios of retail properties. Cole primarily targets net-leased single-tenant and multi-tenant retail properties under long-term leases with high credit quality tenants, as well as single-tenant office and industrial properties, using a conservative investment and financing strategy. At the end of March 2012, Cole-related entities owned and managed more than 1,650 assets representing approximately 61.5 million square feet of commercial real estate in 47 states with a combined acquisition cost of more than $10 billion.