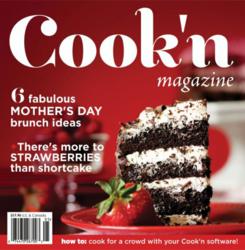 I just received my copy of the Cook'n Magazine and all I can say is WOW! This is the most beautiful magazine that I have ever seen. Each picture is more beautiful then the next. Thank you a million times. - Donna Elison
Alpine, UT (PRWEB) May 15, 2012
DVO Enterprises, creator of the #1 best-selling Cook'n Recipe Software® program, announced today the release of the new Cook'n Magazine. Specially designed to connect with the Cook'n Recipe Software, the new Cook'n Magazine bridges the gap between traditional cookbook browsing and new age online recipe management. The combination extends DVO's reach to a whole new market by providing all the benefits of Cook'n to those who still enjoy the look & feel of a high quality recipe magazine.
The Cook'n Magazine is the result of a combined effort between DVO Enterprises and Northridge Publishing. Along with every recipe comes a beautiful photograph by renowned food photographer, Kaycee Lieshman. President of DVO Enterprises, Dan Oaks, is most pleased with the quality that the new Cook'n Magazine. "Customers of DVO Enterprises associate our products and the Cook'n brand with quality and value. From the feel of the paper to the look of the mouthwatering photos, the Cook'n Magazine is second to none and provides a value that no other cooking magazine does".
The value that Oaks is referring to is the partnering and integration of the Cook'n Magazine with the Cook'n Recipe Software. Each yearly subscription to the Cook'n Magazine comes with a free copy of the #1 Best Selling Recipe Software , Cook'n (an $80.00 value). Each edition of the magazine contains a link making it possible for subscribers to import the recipes from the magazine into their Cook'n Recipe Software. Once the recipes are in Cook'n, users can categorize them, scale them, use them in planning menus, making automatic shopping list, analyses nutrition, and even publishing the recipes into family cookbooks. Serving sizes of these recipes can be adjusted with one mouse click and recipes can be customized and stylized by choosing from over 3 dozen colorful recipe themes.