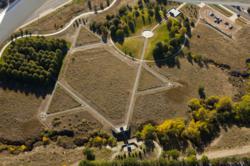 Denver, CO (PRWEB) May 11, 2012
Harvard Square retirement community is holding a "Walk for the Memorial" on Saturday, May 19 at Babi Yar Park, corner of Yale and Havana Streets in Denver. Registration for the 1.25-mile walk through Babi Yar Park begins at 8:00 AM at Harvard Square, 10200 E. Harvard Ave., Denver. The walk begins at 10:00 AM and a community cookout will start at 11:00 AM. Cost is $20 for pre-registration; $25 on the day of the walk; and $50 for families. Non-walkers are welcome to tour Babi Yar Park and donations are encouraged. Register at http://www.mizelmuseum.org/walkformemorial or call (303) 394-9993.
Proceeds will be added to a fund to build a September 11 Memorial at Babi Yar Park with steel recovered from the former site of the World Trade Center in New York City.
Babi Yar Park, located in southeast Denver, is a project of the Mizel Museum and Denver Parks and Recreation. It is a place for memorial gatherings, walking, biking, educational tours and quiet remembrance of victims and survivors of the Holocaust. It is a unique public landscape that serves as a contemplative space for community dialogue. The next phase of park development is The September 11 Memorial, linking the memory of the 9/11 attacks to the memory of mass killings of our fellow human beings in the incident at Babi Yar, Ukraine during the Holocaust. In August 2011, a "memorial in transit" made its way from New York to Denver carrying 16 pieces of steel from the site of the World Trade Center; it's new resting place to be Babi Yar Park.
For more information about the Walk for the Memorial or Babi Yar Park contact the Mizel Museum, (303) 394-9993.