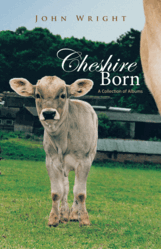 Anywhere there is human activity there is something worth writing.
Sydney (PRWEB) May 14, 2012
Various snapshots of experience chronicle author John Wright's life.
Rather than portray his adventures with photos, he used poetry and his love of writing and storytelling to detail his endeavors.
Compiled over 30 years and involving a wide array of settings, the poems within "Cheshire Born" (published by Balboa Press) focus on themes of cultural diversity, contrasting dialect and varying surroundings. In this collection of poetry albums, Wright uses humor and irony to explore the human experience, telling his life story in a way that allows him to connect with fellow human beings in the everyday world.
"Anywhere there is human activity there is something worth writing," says Wright. "If the writing is clear and the subject meaningful, it will inevitably be of interest to someone."
Using various forms of poetry, Wright conveys the message of gaining awareness throughout life. For Wright, life itself is a poem. Everyone is on their own journey, constantly learning lessons and acquiring wisdom.
"Poetry is used as a window, freezing moments in time," says Wright. "In my book the reader is taken many places, meeting humans and other beings who now have a reference point, a story."
"Cheshire Born"
By John Wright
Paperback, $11.99
E-book, $9.95
ISBN: 978-1-4525-0188-8
Available at amazon.com, balboapress.com, barnesandnoble.com
About the author
John Wright was born in Cheshire, England in 1950. Childhood visits to Ireland as well as working on a farm in Cheshire left lasting impressions that led to the writing of "Cheshire Born." Arriving in Australia in 1969, Wright worked as a psychiatric nurse, eventually receiving the New South Wales Premier's Award for 40 years meritorious service. His poems have been published since the 1980s.
EDITORS: For review copies or interview requests, contact:
Publicist: Liesl Kasdorf
lkasdorf (at) bohlsengroup (dot) com| 317.602.7137
(When requesting a review copy, please provide a street address.)