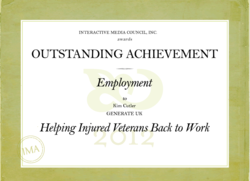 "We are extremely proud to be recognised for these awards, especially with such high scores and in such competitive categories," said Mike Robinson, director of Generate UK. "It is a testament to the quality and professionalism of our team."
Newbury, Berkshire (PRWEB UK) 12 May 2012
While buzz surrounds concepts like email marketing and social media solutions, one company is not only well ahead of the pack, but has the awards and accolades to prove it.
Generate UK, a digital marketing agency, was recently honoured with two coveted awards from the Interactive Media Awards, one for Best in Class in the Data Network category and one for outstanding achievement.
"We are extremely proud to be recognised for these awards, especially with such high scores and in such competitive categories," said Mike Robinson, director of Generate UK. "It is a testament to the quality and professionalism of our team."
The Best in Class award is the highest given by the IMA. It represents the best in planning, execution and overall professionalism. To be awarded, a site had to successfully pass through a comprehensive judging process and achieve very high marks in each of the judging criteria; this is an achievement that only a fraction of sites in the IMA competition earn each year.
The award for Outstanding Achievement is the second highest bestowed by the IMA and is challenging to win. The Poppy Factory website excelled in all areas of the judging criteria and represents a very high standard of planning, execution and overall professionalism.
"We would like to thank the IMA and also our fantastic customers, whom it is an absolute pleasure to work with," Robinson said.
Generate UK is an award-winning digital marketing agency based in Newbury, Berkshire. They provide web design, web development and digital marketing solutions, including SEO, email marketing, social media, video production and mobile applications.
For more information about Generate UK, contact:
Mike Robinson
mrobinson(at)generateuk(dot)co(dot)uk
01635 550431
@generateuk
http://www.facebook.com/generateuk