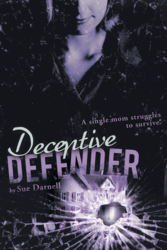 Don't ignore warning signs. Those red flags are God's way of warning us that something isn't right.
Atlanta, GA (PRWEB) May 14, 2012
It's not the average love story. It's not the average mystery.
Somewhere in between the two lies the story of Emily Dalton, a young mother who has recently escaped an abusive marriage. She is recovering from divorce and struggling to raise her daughter in a down economy.
"Deceptive Defender" (published by WestBow Press) is a fictionalized account of true experiences.
In her new book, author Sue Darnell uses real life events to craft a story that merges two distinct genres: romance and mystery. Offering a glimpse into the life of a vulnerable woman, Darnell's main character Emily deals with personal burdens and issues that are all too common in society today.
Just as Emily begins to settle down and find peace in her new life her abusive ex-husband resurfaces, claiming Emily to be an unfit mother while attempting to separate her from her young daughter.
Out of the blue, a charming man enters into Emily's life. Blinded by a false sense of security, she moves forward cautiously, beginning a relationship shrouded in mystery with a man who isn't who he claims to be.
"I wrote 'Deceptive Defender' because I wanted to help people realize the importance of making wise decisions," says Darnell. "Don't ignore warning signs. Those red flags are God's way of warning us that something isn't right."
"Deceptive Defender"
By Sue Darnell
Paperback, $17.95 - Hardcover, $33.95 - eBook, $3.99
ISBN: 978-1-4497-3962-1
Available at: amazon.com, westbowpress.com, barnesandnoble.com
About the author
Sue Darnell has authored hundreds of nonfiction articles, published both online and in traditional print. Her fascination with personality profiles and character development, along with her life experiences, influenced "Deceptive Defender." Today, she lives in Atlanta and is affiliated with the Christian Writers Guild, Long Ridge Writers Group and Writers Research Group.
EDITORS: For review copies or interview requests, contact:
Publicist: Liesl Kasdorf
lkasdorf (at) bohlsengroup (dot) com| 317.602.7137
(When requesting a review copy, please provide a street address.)