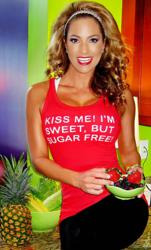 Jennifer Nicole Lee's management team has confirmed a "Fun Fit Foodie Cookbook" signing and discussion at the Coral Gables Books & Books location June 23rd from 7-9:00 PM EST. For more info, please visit www.JNLBooks.com
Miami, FL (PRWEB) May 11, 2012
If you haven't heard the remarkable story of Jennifer Nicole Lee, or JNL as she's often called, you haven't been paying attention. A mother of two who lost 80 pounds after the birth of her second child, she embraced a wholesale lifestyle change that included rigorous exercise and a healthy diet, and went on to be crowned Miss Bikini America 2004 and, at the age of 31, was named the first ever Miss Muscle & Fitness.
Now one of the most sought after fitness models in the world, JNL has made it her personal mission to inspire a new generation of women to pursue and ultimately achieve their fitness goals so that they too can enjoy the bodies and lifestyles they so richly deserve.
Jennifer promises to feature more of JNL's trademark nutritious and easy to prepare meals.
Many of these recipes can also be found on her website and through her YouTube channel at http://www.JNLYouTube.com . A quick YouTube search for "JNL" and "foodie" will call up her Fun Fit Foodie branded videos.
These mouthwatering recipes, such as Curry in a Hurry, Asian Pancakes and Shrimp Stir Fry, are cooked and served up by JNL herself who wants you to know that cooking fit is fun.
She also talks about the need to pursue a low sodium, low sugar, low fat, low carb diet but shows how remarkably easy that is and how delicious the results can be.
Exercise is only half the equation when it comes to the pursuit of a toned fitness model body, the other half is diet. But eating healthy does not have to mean joyless, tasteless meals. JNL has healthy Italian love of eating and won't settle for anything less than fabulous. After all, an international fitness celebrity, or a woman striving to become one, deserves nothing less.
For more info visit http://www.JNLBooks.com