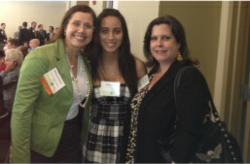 Mayen possesses a wonderful combination of intellectual strength and a heart for service
Miami, FL (PRWEB) May 11, 2012
The Greater Miami Chamber of Commerce granted the 2012 Jeanne Bellamy Scholarship to Mayen Vergara, a senior at the School for Advanced Studies. The $2,500 scholarship is awarded each year to a high-achieving female senior who attends a Miami Dade County public high school and intends to study business in college. College Admissions Assistance continued its annual tradition of contributing $1000 to the scholarship amount.
Mayen currently has a 5.6 GPA and plans to attend the University of Miami in the fall, where she will major in business. She has a genuine passion for science and the processes of production, distribution, and the consumption of goods and services. She has already completed courses in economics and business as part of her high school curriculum. Also, having worked alongside her uncle in a family-owned auto shop during the summers, Mayen has developed an entrepreneurial spirit, and learned many valuable business and organizational skills. Her plans for the future include utilizing her degree to start her own business.
Mayen is also an avid volunteer, and spends many hours aiding local causes, including working with the Miami International Book Fair, and caring for local youth through the summer-camp programs at the Michael Ann Russell Community Center. Her charitable work and high school achievements demonstrate her commitment to community involvement as well as her capacity for high achievement—character traits that will serve her well at the college level.
"We are so proud of all that Mayen has accomplished in high school," said Marilu Kernan, Chief Marketing Officer of College Admissions Assistance. "She possesses a wonderful combination of intellectual strength and a heart for service." Meeting Mayen after the scholarship ceremony, Ms Kernan expressed confidence that she will be "a huge success in college, and will make our community proud."
About the Company:
College Admissions Assistance is a comprehensive college-planning service that has helped thousands of students prepare themselves for college--from discovering a great career, achieving admission to the right college, and enjoying the best financial start in life. The company's ultimate mission is to help each student live out their unique purpose in life by helping them get started with the right college education.