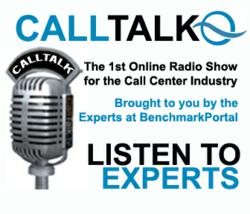 Santa Barbara, CA (PRWEB) May 10, 2012
BenchmarkPortal will air a new online radio show on CallTalk, (http://www.benchmarkportal.com/call-center-newsresources/calltalk-online-radio-show) discussing the myths about social media and call centers.
The host for this show will be Bruce Belfiore, CEO at BenchmarkPortal. The guest speaker Dr. Natalie Petouhoff, Social Business Strategist and ROI Expert, with CallTalk co-host Dee Buell.
The online show will discuss a few of the common myths with social media and call centers.
Myth 1: Social Media Doesn't Affect Customer Service
Myth 2: There's No ROI for Social Customer Service
Myth 3: My Customers Aren't on Twitter
Dr. Natalie is the Director and Instructor of the UCLA Social Media Business Course at UCLA. Dr. Natalie's applies her unique perspective on business and social media via her social media assessments and ROI calculators that help clients to develop social business strategies, tactical plans and real-world execution capabilities so that social media can be integrated into the business to increase the bottom line. She develops custom training programs for social business/media, leadership, employee motivation and organizational change.
Dr. Natalie's four business books and many white papers are the subject of hundreds of articles in publications like USAToday, Adage, BusinessWeek, Fast Company, The New York Times, The Wall Street Journal, Peppers and Rogers 1-to-1 Magazine and CRM Magazine as well as national television and radio. President of the Los Angeles Social Media Club, Dr. Natalie has held positions as a Forrester Analyst, Chief Strategist for a Weber Shandwick PR/Marketing Agency, management consultant at PWC and Hitachi and in management at Hughes Electronics, GM and GE. Dr. Natalie also teaches Social Media, PR, Marketing and Leadership courses at USC and Pepperdine University.
http://www.drnatalienews.com/blog
https://www.facebook.com/natalie.petouhoff?ref=tn_tnmn
The first person to ask a question, will receive a $1500 Benchmarking Survey. Please email Sean(at)BenchmarkPortal(dot)com
The free online radio show will air Wednesday, May 16th, 2012 at 10 a.m. PT/1 p.m. ET. Click here to listen to CallTalk, (http://www.benchmarkportal.com/call-center-newsresources/calltalk-online-radio-show)
About CallTalk
A fun and exciting online program for education and learning, for the customer service industry. Once a month, broadcast directly over the Internet to your desktop, covers informative and educational topics impacting the contact center and customer service today.
About BenchmarkPortal
Founded in 1995, BenchmarkPortal is a global leader in the contact center industry providing benchmarking, consulting, certification, training and industry reports. The BenchmarkPortal team of professionals has gained international recognition for its expertise and an innovative approach to best practices for the contact center industry and hosts the world's largest database of contact center metrics. BenchmarkPortal's mission is to help contact centers reach peak performance in operational effectiveness and efficiency so that the centers will realize increased levels of agent and customer loyalty while containing costs and building enterprise value. For more information on BenchmarkPortal please call 1-800-214-8929 or visit http://www.BenchmarkPortal.com