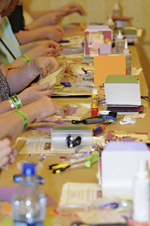 I am so excited about the class offerings!! I printed the class descriptions and have charted my classes. Wow!! It will be a great and busy weekend. Can I eat in 30 minutes? - Laura
Buffalo, NY (PRWEB) May 11, 2012
Online registration for the Buffalo, NY Creating Keepsakes Scrapbook Convention closed May 11. Attendees can purchase class tickets onsite starting the afternoon of Thursday, May 17. A schedule is posted showing available classes and a binder at the Class Ticket Sales booth contains descriptions and images. In addition, some class sponsors provide displays showcasing their class projects. The displays are found in the lobby of the Buffalo Niagara Convention Center.
Attendees enjoy taking classes to learn new techniques, try new or different products, and to make projects to use themselves or give as gifts. Classes cover a variety of projects (scrapbook layouts, mini-albums, cards, home décor, etc.) and cater to varying skill levels. Class times are one hour, one and a half hours, or two hours with 30 minute breaks between one hour classes. Class kits include instructions and supplies to create the project, but students need basic supplies such as scissors, trimmer, and adhesive. A few classes ask students to bring specific supplies, which are listed in the class description. If a student doesn't have a listed supply they can often buy it in the Vendor Faire (shopping floor) or find a class attendee to share with.
For more detailed information, please visit http://www.CKScrapbookEvents.com/buffalo.