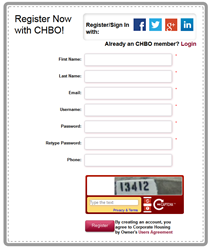 Denver, Colorado (PRWEB) May 14, 2012
CorporateHousingbyOwner.com (CHBO), a website connecting individual property owners offering short-term furnished rental properties with renters around the world, today launches its Refer a Friend program.
Any time a CHBO member refers a friend to CHBO, and the friend signs up to become a CHBO member, both the member and his or her friend will receive a $50 credit they can use towards their individual CHBO accounts for future purchases of upgrades or listing renewals. To celebrate the launch of this program, both the CHBO member and his/her friend will earn a double reward of $100 in CHBO credits. This double rewards promotion is for new referrals starting today through Friday, June 15, 2012 only.
"The CHBO community is comprised of an ultra-loyal population of landlords that aren't afraid to tell their friends, neighbors and colleagues about how CHBO has helped them find quality renters for their executive rental properties over the years," says Kimberly Smith, CEO of Corporate Housing by Owner. "Because we know our members are taking the time to share their wealth of knowledge about corporate rentals and CHBO, we want to reward and thank them. Doing so is very important to us and our mission to help our members find success."
HOW IT WORKS
Once a friend is referred to CHBO by another CHBO member, the friend will need to register his or her property on CHBO. During registration, the friend will be prompted to submit the name and CHBO property ID of the person who referred him or her to CHBO.
Once CHBO confirms the listing, both members will be rewarded with a rewards credit to use towards upgrades and future listings on the CHBO website.
HOW TO GET REWARDED
If you have a friend you'd like to refer to CHBO, follow these three easy steps:
1. Give your friend the link to register his or her rental property on CHBO. Also share with them your property's ID number on CHBO.
2. During registration, your friend will be asked to fill out their personal information. During this time, they will see a pull down menu that says, "How did you hear about us?" Your friend should select "Friend" in the pull down menu. They will then be prompted to write in their friend's name and CHBO Property ID number.
3. Once your friend registers and completes his or her purchase, a CHBO Property Specialist will award you and your friend their reward – either $100 or $50 each – to use for future purchases at CHBO!
Visit the CHBO Refer a Friend promotion page for more information about how to refer a friend and visit the CHBO website for more information on how to list and market your furnished rental property to prospective tenants around the world.
About Corporate Housing by Owner (CHBO)
CHBO was founded in 2006 out of a need to connect private homeowners and real estate investors offering furnished, short-term rentals with corporate housing seekers such as traveling executives, relocated professionals, traveling nurses, actors, athletes and more. The company gives individual homeowners and investors tools to manage a corporate housing property themselves as well as helps them market their properties to those turning to corporate housing to fulfill their housing needs.