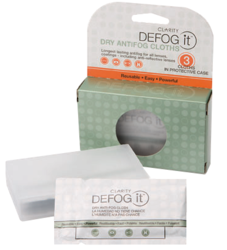 We want safety professionals to see how Defog It anti fog is helping companies improve safety eyewear compliance and prevent worker injury by simply preventing fogging."
Valley View, OH (PRWEB) May 11, 2012
Defog It anti fog specialists will be demonstrating how all-day fog protection for safety glasses and goggles can improve eyewear compliance and prevent worker injury at Safety 2012, June 3-6 in Denver, Colorado. The Professional Development Conference & Exposition of the American Society of Safety Engineers (ASSE),
"ASSE is a safety resource for more than 34,000 safety, health and environmental professionals," notes John Swett, Vice President of Sales and Marketing for Defog It. "We want safety professionals to see how Defog It anti fog is helping companies improve safety eyewear compliance and prevent worker injury by simply preventing fogging."
First proven by the military, Defog It anti fog is proven in the toughest workplace environments where heat, cold, humidity and changing temperatures cause fogged safety eyewear. It's a leading safety choice in utilities, food processing, construction, pulp and paper, mining, metal fabrication and law enforcement.
Defog It is available as a liquid or reusable cloths and is safe and effective on safety glasses, goggles and faceshields. Case studies are available at the Defog It website, http://www.defogitworks.com, along with research and whitepapers on preventing eye injuries, demonstration videos and product information.
Lab tests confirm the Defog It's high performance. In one test, a lens treated with Defog It was held over constant hot steam for 60 minutes without fog forming. Similar products failed in as little as 5 minutes. In another test, lenses coated with Clarity Defog It were moved between cold and hot environments 100 times without fog forming.
Nanofilm, founded in 1985, is the maker of Clarity Defog It and a global optical leader in lens care and coatings. Millions of people around the world use Nanofilm products, including Clarity Clean It™, Clarity Defog It™ and other lens care products, as well as nanotechnology-enabled coatings.