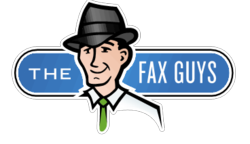 Faxing is still the fastest, cheapest, and most secure method of sending documents
Burnsville, MN (PRWEB) May 14, 2012
Celebrating a milestone 14th anniversary, The Fax Guys (http://www.thefaxguys.com) has been helping companies cost-effectively, reliably and securely transmit documents since 1998. Maintaining sustained growth throughout the economic downturn, The Fax Guys posted record revenue figures in 2011 and anticipate continued success based on industry forecasts for the FoIP (Fax over IP) market.
Despite the influence of Internet and mobile technology, faxing is still the only communication tool that can confirm successful transmissions, handle large files, and provide audit trails. Exclusively focused on fax automation, The Fax Guys have installed hundreds of RightFax® fax servers nationwide, enabling clients to send, receive and manage documents directly from their desktop, email and other applications.
"Contrary to popular belief, faxing is not dead; it remains a critical element for each of our clients' operations," said Greg Osterdyk, chief fax guy at The Fax Guys. "Faxing is still the fastest, cheapest, and most secure method of sending documents. Plus, you always know when a fax goes through. Unlike email, faxes don't get blocked by spam filters or plagued with Internet problems."
Led by usage in the health care, manufacturing, financial services and transportation industries, the FoIP server market is forecast to grow at 10.9 percent CAGR to $360 million in 2016, according to Davidson Consulting.
"As privacy and HIPAA requirements tighten, faxes will continue to be a mainstay in health care and other industries," said Osterdyk. "We've modeled our business so that we can continue to help clients address the regulations and requirements within which their businesses work."
About The Fax Guys (http://www.thefaxguys.com)
Founded as Dynamic Solutions Group, the company has been exclusively focused on fax automation since 1998. Rebranded as The Fax Guys in 2011, the company has completed more than 700 fax server installations nationwide in such industries as health care, manufacturing, financial services and transportation. Supporting companies of all sizes, The Fax Guy's client roster includes 3M, Prime Therapeutics and Medtronic. One of the Top 10 Open Text RightFax Resellers in North America, The Fax Guys are one of an elite few to achieve Open Text Platinum Partner distinction and are also an Open Text Authorized Support Provider. In late 2011, The Fax Guys introduced FaxPing®, a service that automatically monitors and tests fax systems. In tandem, RightFax and FaxPing provide companies with a powerful solution for managing and maintaining fax server infrastructure.
In May 2012, The Fax Guys earned inclusion in Minnesota Business' inaugural "100 Best Companies to Work For" competition, alongside organizations such as the Minnesota Twins, Allina Hospitals & Clinics, Innovative Office Solutions, and the Summit Brewing Company.
###
Media contact: Eva Keiser, KC Associates, LLC, eva(at)kc-associates(dot)com, 612.940.4254