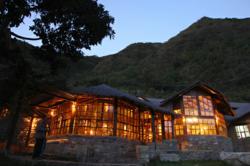 We are so pleased to introduce this mountain lodge trek to Machu Picchu. Travelers should not miss out on discovering the Inca and the Andes just because the Inca Trail is sold out for the summer.
Encinitas, CA (PRWEB) May 15, 2012
Encinitas based sustainable travel company Global Basecamps introduced an eco-friendly Machu Picchu Lodge Trek on Monday. As the world-famous Inca Trail leading to the ruins of Machu Picchu, Peru becomes more and more heavily trafficked, the demand for alternative treks through the Andes mountain range grows. In fact, the permits to hike the traditional Inca Trail, regulated by the Peruvian government, are completely sold out through August this year. Fortunately, the unique "lodge to lodge" trek introduced on Monday offers hikers the opportunity to visit some of the Inca's least known cities and fortresses, along with nearly untouched valleys, mountain rivers, and glacier lakes on their way to the famous ruins of Machu Picchu.
"Travel to Peru is really heating up this year, and even finding an available hotel room in Cusco this summer is becoming difficult!" says Global Basecamps Travel Specialist Michelle Barth, "There are still plenty of opportunities to discover the Andes, as well as Machu Picchu, if you're willing to venture off the beaten path." The newly introduced trek follows parts of the Camino Real or "Royal Road," which originally began near Quito, Ecuador, passed through Cusco and ended in Tucuman, Argentina. Scattered portions of the road remain today, if one knows where to look, along with Inca ruins such as Tarawasi and Llactapata.
The seven-day trek officially begins in Marcoccasa, a town very near Cusco. From here one hikes for approximately six hours on the first day and reaches Soraypampa, and the nearby Salkantay Mountain Lodge. All the mountain lodges along this trek feature comfortable, clean rooms, excellent dining, and outdoor jacuzzis, and Salkantay is no different. The following day features a walk along, (and possible dip in?) Lake Humantay, a mountain lake fed directly by the glaciers of Mt. Humantay.
The trek continues on day three up the Rio Blanco Valley, accompanied by Andean condors along the way, and down to Wayra Lodge. As trekkers descend following the Salkantay River on the fourth day of hiking, the scenery will become more verdant as they reach Colpa Lodge in time to enjoy a "Pachamanca." This traditional Peruvian meal will be prepared by layering meat and vegetables with hot stones underground and letting it bake naturally. Day five of the hike wanders through the Santa Teresa Valley through more populated areas, and will pass through banana, granadilla and avocado orchards, as well as coffee plantations before reaching the head of the "Llactapata Inca Trail" near Lucma Lodge, the overnight accommodation.
The sixth and final day of heavy hiking will follow the Llactapata Inca Trail to Llactapata Pass, where one can catch a little-known and stunning view of far-off Machu Picchu. Hikers will finally reach Llactapata, a sister-city to Machu Picchu, before descending to Aguas Calientes, the modern city best-known for being next to Machu Picchu. The following day will be spent entirely in Machu Picchu, accompanied by a professional English-speaking guide as he shows travelers through the abandoned fortress.
"We are so pleased to introduce this mountain lodge eco tour to Machu Picchu," commented Barth, "Travelers should not miss out on discovering the Inca and the Andes just because the Inca Trail is sold out for the summer." Global Basecamps has found that travelers interested in custom Inca Trail treks have been disappointed this year, as availability rapidly sold out for the summer. Travelers considering this trek should not wait, however, as even the lesser-known hikes around the region are selling out.
Global Basecamps is a specialty travel resource designed to simplify the process of researching and booking sustainable hotels, lodges and private tours worldwide. Allowing independent travelers to journey at their own pace and ensuring trip priorities are met while keeping maximum flexibility on the road, Global Basecamps truly makes exploration easy. Please visit http://www.globalbasecamps.com.