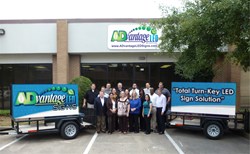 "The new office prepares us for the inevitable growth that we all see on the horizon and enables us to provide exemplary customer service to all of our clients." Richard James, ADvantage LED
Houston, TX (PRWEB) May 21, 2012
ADvantage LED Signs, provider of innovative LED message displays, is proud to announce their new bigger location at 1424 N. Sam Houston Parkway E., STE 160, Houston, TX 77032. They moved from 15311 Vantage Parkway E., STE 350, Houston, TX 77032. The new office is conveniently located near the Intercontinental International Airport of Houston and just north of the city of Houston.
Their old office was 5,000 sq. ft. with 15 offices. Now, their new office is 7,500 sq. ft. with 26 offices plus warehouse space with a dock high and ramp access. There is plenty of space to host visiting clients and perform onsite demos of their state of the art equipment.
ADvantage LED Signs started business in 2009 as experienced professionals offering US built innovative LED message displays to the advertising consumer and their future now looks bigger & brighter. The combined effort of Advantage and Vantage LED, the manufacturer, has created rapid growth increasing the ability to produce more LED signs in a shorter time frame.
The move to the new location was long overdue. ADvantage LED's sales have increased by 100% in 2012 due to their new customer satisfaction focus and decreased delivery and build times at the factory, which has aided in the growth of the company from 12 employees in 2011 to 18 at the start of 2012.
LED signs are quickly becoming a staple of any successful business as well as an effective communication tool for cities, governments, schools and churches. ADvantage LED Signs specializes in small to large scale LED display projects providing a complete turn-key experience including design, engineering, permitting, professional installation, LED sign content, onsite warranties, proactive support and training.
Drop by and say "Hello" to ADvantage LED Signs or visit them online at http://www.advantageled.com.
ADvantage LED Signs
1424 N. Sam Houston Parkway E., STE 160
Houston, TX 77032