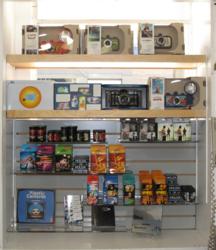 Please bring your camera and be ready to experience three hours of portrait photography.
San Francisco, CA (PRWEB) May 12, 2012
San Francisco's Adolph Gasser Photography, a camera shop and photography lab that also offers rental cameras in the San Francisco area, is promoting its ongoing lighting classes and workshops: "Introduction to Studio Lighting" and "Beyond the Basics Studio Lighting," both with Richard Dischler.
"Introduction to Studio Lighting" is a two-hour introductory class where participants will learn basic studio lighting techniques for portrait photography with the use of hot lights and studio flash units. This is the prerequisite class for "Beyond the Basics of Studio Lighting," and is offered once a month, from 10 a.m. to noon, through December for a fee of $49.95.
In "Beyond the Basics Studio Lighting," students practice techniques for portrait photography using a light meter, the manual settings on their camera, model posing and lighting ratios. This hands-on class is offered once a month through December, from 1 to 4 p.m., and costs $79.95.
"Please bring your camera and be ready to experience three hours of portrait photography," John Gasser of Adolph Gasser Photography said. "You must be prepared to set the custom white balance and manual controls of your camera."
In addition, Adolph Gasser Photography is renting the new Nikon D800 Camera in the still digital rental department. One of the most popular items in the video sales department is the GoPro Hero camera, though Gasser carries a wide variety of different cameras and accessories from them.
Adolph Gasser's photo lab services include online printing, e-6, black and white and c-41 processing. It can also scan old family photos and put them on a CD for customers to archive and reprint.
Gasser also offers video transfers from 8 millimeter, 16 millimeter and Super 8 to DVD. Additionally, it can put audio tapes and reel-to-reel audio to a CD.
"Please visit our newly redesigned website," Gasser said. "It is easy to navigate and find the information you need, including price lists of our rental equipment, and our used/consignment lists are also located on the website, as well. Follow us on Facebook and Twitter for monthly specials and discounts on select equipment."
For more information about Adolph Gasser Photography's products and services, call 415-529-4501, view the camera shop on the web at http://www.gassersphoto.com or visit 181 Second St. in San Francisco.
About Adolph Gasser Photography
Adolph Gasser Photography is a camera store, audio/video store, photography lab and rental house that has served the Bay Area's photography needs since 1950. It has been a constant among professionals and hobbyists for the sale and the rental of still and video cameras, lighting and motion picture equipment.
Its rental departments offer a large variety of equipment, allowing clients to rent an item or try it out prior to actually purchasing it. Adolph Gasser Photography also sells used camera equipment.