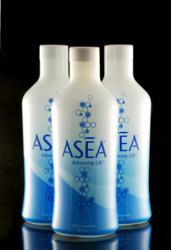 We have rarely seen such a drastic difference. For 43 of those signals to change, that is a quarter of the metabolite profile that we are monitoring
Salt Lake City, Utah (PRWEB) May 12, 2012
ASEA, LLC announces the release of groundbreaking findings at the Experimental Biology 2012 Conference in San Diego of a new study from the Human Performance Laboratory showing increased power output and endurance among competitive athletes.
The study supervised by Dr. David C. Nieman, DrPH, FACSM at the Human Performance Laboratory, Appalachian State University, found that after drinking ASEA athletes experienced massive free-fatty acid mobilization in the blood prior to exercise to a level normally found only after heavy exercise.
"These are very significant findings," said Nieman. "Our research demonstrated that ASEA is causing mobilization of free-fatty acids prior to exercise, making this source of fuel available at the outset of exercise or competitive performance. This has important implications, especially regarding glycogen sparing, which is something every athlete tries to achieve."
Glycogen sparing is the use of non-carbohydrates as a source of energy during exercise so that the depletion of muscle glycogen is delayed. When glycogen is spared the body burns fats for energy, making a greater contribution to an athlete's efforts during the initial stages of a race. This leaves more glycogen for the later stages of racing or exercise, and muscle fatigue will be delayed.
The research found that after drinking ASEA for one week, athletes were experiencing a shift in 43 metabolites.
"We have rarely seen such a drastic difference. For 43 of those signals to change, that is a quarter of the metabolite profile that we are monitoring. It is a huge bump in metabolite shifts that are due to the ingestion of just one product," said Nieman.
What do these metabolite shifts mean for athletes?
"Athletes actually started the exercise after drinking ASEA with a lot more of these free-fatty acids in their blood. The reason that is important is that the muscles will actually use that as fuel, sparing the muscle glycogen and the use of amino acids which is what we found as we analyzed the data," said Nieman.
"Every understanding from the literature is that these probably came from the fat stores in the abdominal area," said Nieman. "So if you drink ASEA we found that the fats go up in the blood. If you're not exercising, those fats will still be used to support the body's metabolism for life."
Simply drinking ASEA for seven days mobilized fuel stores in the body from abdominal fat. For those that want to burn more fat during exercise ASEA is ideal. Even without exercise the freed up fat stores will be used by the body as fuel.
Although this is the first laboratory study of ASEA on athletes, many endurance athletes have been drinking ASEA and noticing improvements in their race times, recovery after racing/training, etc.
James Lawrence, World Record, Most Triathlons 70.3 races, said, "I've experienced all these tremendous benefits over the last few years when I'm doing all these world records, and maybe didn't understand it, but was fearful to go off the product. With this new study it's really helped me understand why I don't get sore, and why I'm able to just lock in this strong pace and hold it for so long."
Cody Waite, professional Xterra triathlete, had this to say about Dr. Nieman's study. "My thoughts on the study are that I kind of already knew this through my own experience with the product. But at the same time it's great to have that solid evidence that laboratory test make official. That gives it that official stamp of approval from the scientists and then the stamp of approval from lead athletes."
The study included 20 fit athletes in a randomized, double-blind, placebo-based, cross-over study. After baseline testing for VO2Max and body composition, one-half of the athletes drank four ounces of ASEA each day for seven days. The other one-half of the athletes drank four ounces of a placebo for seven days. Then all athletes completed a 75-km cycling trial, with blood drawn prior to the trial, immediately after the trial and one hour after the trial.
After a "washout" period in which none of the athletes drank ASEA or the placebo, a seven day cross-over study was conducted. The original ASEA group drank the placebo and the original placebo group drank ASEA for a seven day period. Then all athletes completed a second 75-km cycling trial, with blood drawn prior to the trial, immediately after the trial and one hour after the trial.
"This study is the latest in ASEA's commitment to ongoing research. The frontiers of redox signaling molecules and ASEA are constantly being pushed. This latest study is not a destination, but an on-ramp," said Verdis Norton, Chief Executive Officer at ASEA.