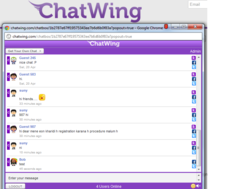 Boston, MA (PRWEB) May 10, 2012
Since there are hundreds and thousands of free-hosted blogs out there, it is evident that a lot of blogs are getting drowned when it comes to online visibility. In order for a blog to prosper today, the blogger must be able to balance beautiful content and utilization of blog-support programs. Chatwing, an efficient and advanced chat box is now finally released to help out inactive blogs get the fuel they need to survive competition.
Chatwing is somehow similar to other chat widgets out there, but it has many strong points. Chatwing maximizes Facebook usage, enabling its users to log in using their Facebook accounts. This simply means that people can now exchange Facebook information in just seconds. They can truly expand their social horizons with the help of Chatwing. The chat box's developers were keen enough to create a platform that can maintain connection despite the large bandwidth being consumed by Facebook.
There are also lots of topics that can be talked about in the Chatwing shout box. This shows that Chatwing is versatile enough and compatible to most blogs and websites specializing in different chatrooms. Once Chatwing is installed to an inactive blog, the visitors will start discussing about a lot of things. If the blogger initiates the discussion, a stable connection has been made and the visitors will be enticed to come back in a regular basis. This raises the activity of the blog.
Easy installation mechanism is also one of the perks of Chatwing. To install the free chat widget, the user must first register his blog's domain name. After that, he can now proceed to the customization phase wherein he can modify the blog's height, width, color, and title. After finishing customization, the user can now retrieve the HTML code necessary for embedding. Chatwing goes live after just few seconds.
Chatwing users can also tinker upon an array of avatar displays and cool emoticons. This feature spices up any conversation with ease. Bloggers, especially those who are just starting, can explore the chat widget by visiting Chatwing's main website. Alternatively, users can also check out Chatwing's Facebook page for fresh content.
About Chatwing.com
Chatwing.com has developed live chat software for websites and blogs. It caters to different online communities due to its high rate of connectivity. Everyone can create a customizable live chat feature in 1 minute or less. Users have the ability to customize the size, color, and fonts of the chat box. The ability to chat via social media accounts such as Facebook and Twitter enable Chatwing to offer a personal and unique real-time experience to all sites. Chatwing is 100% free and very easy to use.