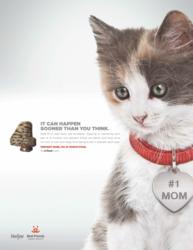 Polls tell us that 80 percent of people believe in spay/neuter, and more than half of all litters are accidents. We wanted to confront this issue head-on.
Salt Lake City, UT (PRWEB) May 11, 2012
First there was the "Fab Four." Then came the "Fantastic Four." And now, Best Friends Animal Society and TM Advertising of Dallas present "Fix at Four," a national advertising campaign with the potential to save millions of lives.
"Prevent more. Fix at month four."
It's a catchy, no-nonsense campaign that's the first national effort to educate pet owners on when they should spay and neuter—not just why.
The clever multichannel awareness campaign is designed to get pet owners' attention and carry with it the big-picture goal of making "Fix at Four" part of America's cultural lexicon.
"The campaign is unique in that it takes a supportive --rather than preachy-- approach and emphasizes the importance of sterilizing pets early to stop accidents before they happen," said Amber Ayers, senior marketing and creative manager for Best Friends Animal Society.
"Polls tell us that 80 percent of people believe in spay/neuter, and more than half of all litters are accidents. We wanted to confront this issue head-on. When there are millions of pets already homeless, each of those uh-oh/oopsie litters contributes directly to the killing of an estimated 4 million dogs and cats in shelters each year."
Ayers said well-intentioned pet owners who believe "it won't happen to me" are responsible for half of the 70,000 puppies and kittens born daily in the U.S.
TM Advertising worked with Best Friends for more than a year, donating its services to create a lively and engaging message, which includes two unforgettable public service announcements voiced by Linda Hunt (NCIS LA) http://www.youtube.com/watch?feature=endscreen&NR=1&v=P55GlV1GY1Q and an adorable, fact-packed infographic voiced by Eric Stonestreet (Modern Family). http://www.youtube.com/watch?v=H-P0wRfALk0&feature=relmfu
"Fix at Four" targets pet owners' complacency and confusion by establishing spay/neuter at four months as a social norm because few people realize their pets can get pregnant much sooner than they think—for example, cats at four months and dogs at six months.
According to an Ipsos Marketing poll for PetSmart Charities®, nearly 60 percent of pet owners who haven't yet spayed or neutered either believe the pet is too young or they just haven't gotten around to it.
"TM is inspired by the passion and benevolence of the Best Friends organization," said Susan Scull, account director at TM Advertising. "Best Friends is a one-of-a-kind organization that not only wants to spread its message, but also wants to create a movement. We're looking forward to helping them build momentum and spread their story."
With emphasis on the phrase "Fix at Four," Ayers said the heart of the campaign is the potential for it to grow into a cultural movement. All elements lead people to the website http://www.fixatfour.com, where there is an abundance of resources, including local low-cost spay/neuter options and tools to spread the word. Sharable through all social media, email, Facebook and Twitter, the campaign's web site elements include online ads, animated logos, posters, screen savers and merchandise.
"What began as a simple outreach about spay and neuter, became a much more all-encompassing message about the right time to spay and neuter," Ayers said.
"Best Friends is pleased with the campaign and very happy to have TM Advertising as our agency partner," she added. "TM is playing an integral role in helping us achieve our mission and spread awareness. Our goal is to bring the number of healthy and treatable pets killed in shelters down to zero, and TM's bold thinking will help us achieve this goal."
"We also send a big thank-you to Feline Pine and the many companies and organizations that helped us bring this campaign to life. It was amazing that so many were willing to donate hundreds and in some cases thousands of hours to help homeless animals. Seeing people's level of compassion and dedication gives us great hope that we can achieve our mission."
Best Friends' lifesaving mission has two main areas of focus: One is getting animals out of shelters through adoption, and the other is promoting spay/neuter to prevent them from entering shelters in the first place.
With the campaign starting to resonate with the general public, the message is a simple one: "Prevent more. Fix at month four."
About Best Friends Animal Society®
Best Friends Animal Society®, named Animal Welfare Non-Profit National Brand of the Year based on the 2012 Harris Poll EquiTrend® study, is a national animal welfare organization building no-kill programs and partnerships that will bring about a day when there are No More Homeless Pets®. The society's leading initiatives in animal care and community programs are coordinated from its Kanab, Utah headquarters, the country's largest no-kill sanctuary. This work is made possible by the personal and financial support of a grassroots network of supporters and community partners across the nation.
To become a fan of Best Friends Animal Society on Facebook go to: http://www.facebook.com/bestfriendsanimalsociety
Follow Best Friends on Twitter: http://twitter.com/BFAS