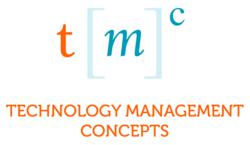 TMC is an established NetSuite Solution Provider based in Los Angeles, CA that has 25+ years in the ERP business and will continue to enhance our knowledge and specialities at this years SuiteWorld
Los Angeles, CA (PRWEB) May 16, 2012
Technology Management Concepts, a leading ERP provider is proud to announce they will be attending SuiteWorld 2012 in San Francisco, CA from May 14-17th. NetSuite, the industry's leading provider of cloud-based financial and ERP software is the basis for the annual conference. SuiteWorld 2012 will be the second global conference for NetSuite's customers, partners, developers, and system integrators. It is the largest event for the NetSuite community, which will include more than 12,000 companies and subsidiaries using the NetSuite business management site.
Jennifer Harris, President of TMC said "We are excited to meet many of our colleagues in San Francisco to further grow our relationships with our customers and fellow partners". She also noted that "TMC is an established NetSuite Solution Provider based in Los Angeles, CA that has 25+ years in the ERP business and will continue to enhance our knowledge and specialities at this years SuiteWorld."
At SuiteWorld 2012 You'll Have Access To:

100+ breakout sessions of content across 10 different subject tracks
Keynote addresses from top level NetSuite executives, cloud experts and top implementers addressing current and future topics on cloud computing
Over 75 value-added solutions to NetSuite at the SuiteWorld Expo
Networking opportunities galore amongst the 3,000+ attendees, partners, product experts, and executives
Training workshops for attendees to sharpen their skills and gain that competitive edge when selling and using NetSuite software
Through these events, attendees will be able to gain practical how-to insights and learn about best practices from NetSuite experts. Attendees will be allowed to join product roundtable sessions to provide feedback to product managers, and ask detailed questions during 30-minute ask-the-expert sessions with SuiteGurus who have deep product expertise. SuiteWorld provides cloud innovators with the opportunity to learn from experts and their peers, share insights, network face-to-face and contribute to the global growth of cloud-based ERP.
SuiteWorld 2011 shattered expectations with more than 2,000 attendees from around the globe, but SuiteWorld 2012 is expecting to have over 3,000 attendees this year and that shows the incredible momentum behind the cloud computing phenomenon. It also shows the dedication from all the NetSuite customers and partners wanting to continue to learn and grow. SuiteWorld 2012 will build on that success and spotlight the cloud as a leading catalyst for business growth and efficiency.
The four-day SuiteWorld conference provides an exceptional opportunity for attendees to network with peers, partners and NetSuite executives and learn best practices for making the most of their NetSuite solution. As mentioned above, SuiteWorld 2012 expects to have more than 3,000 attendees. Whether you are a partner, customer, or someone interested in NetSuite, you'll have an amazing opportunity to network with your peers and meet NetSuite executives and cloud experts. SuiteWorld also provides an inviting social environment with networking lunches, a gala celebration, awards ceremony and after-hours functions.
To find more information about SuiteWorld's agenda including a 4 part in-depth breakdown of the SuiteWorld's 10 tracks being offered on TMC's website here. Also find all information about TMC and NetSuite pricing/info here at http://www.abouttmc.com.
About Technology Management Concepts
Technology Management Concepts (TMC) specializes in the implementation of financial and business management systems, helping our customers streamline their processes and maximize productivity.
TMC has been a leading VAR in the ERP world since 1987. For over 15 years, TMC has been a Microsoft Gold Certified reseller and implementer of the most widely used and adopted industry-leading solutions. The Microsoft products supported by TMC include Dynamics GP, Dynamics NAV and Dynamics CRM. TMC is also a certified NetSuite solution provider offering Cloud ERP Software.
Clients choose TMC for their comprehensive expertise of ERP systems, solid partnership with both Microsoft and NetSuite, a talented and experienced project team, and total commitment to collaboration. TMC has learned that a deep immersion in a client's business, understanding their problems, goals, systems and processes is the key to delivering an outstanding business solutions software implementation.