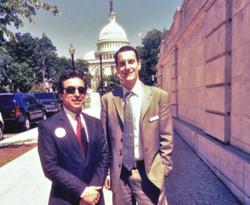 Having the chance to speak with Congressional staffers about the potential impact of our research in laser-structured materials on energy and defense applications was especially fulfilling.
Washington, DC / Bellingham, WA (PRWEB) May 10, 2012
Volunteers sponsored by SPIE, the international society for optics and photonics, were in Washington, D.C., recently to thank Congressional representatives for recent appropriations actions and to urge support for sustainable funding of federal R&D programs vital to economic growth.
They also urged overhaul of U.S. export controls to foster American job creation, and prioritization of spending to support STEM education (in science, technology, engineering, and mathematics).
Eleven SPIE volunteers were among more than 250 scientists, engineers, and business leaders visiting Capitol Hill 24-25 April during the 17th annual Congressional Visits Day (CVD) event sponsored by the Science-Engineering-Technology (SET) Work Group.
SPIE volunteers included:

Bob Breault (Arizona)
Dan Christensen (New York)
Julia Craven-Jones (New Mexico)
Warren Grundfest (California)
Ralph James (New York)
Arlon Martin (California)
Jim McNally (New Mexico)
Kasey Philips (Massachusetts)
Charles Rudy (California)
Jim Stein (Pennsylvania)
Chris Weaver (Florida).
SPIE volunteers said they were pleased with the results of their visits. They reported that members and staff they visited were generally in agreement that control of spending is a priority, and that funding for R&D and for STEM education are important ways to grow the economy.
"Visiting Congressional offices with SPIE was an amazing experience, and confirmed that there are politicians willing to fight to keep science funding and STEM education prominent in this year's budget," Philips said. "As a student, I know that fundamental graduate research can appear disjointed to the outside world. So having the chance to speak with Congressional staffers about the potential impact of our research in laser-structured materials on energy and defense applications was especially fulfilling."
"As a long-time participant in Congressional Visits Day, I appreciate the support of SPIE in enabling those of us working in photonics to effectively bring our message to our representatives in Congress in this way," McNally said. "We were able to clearly and concisely communicate the strategic priorities that support enhancing our nation's competiveness and innovation edge."
The volunteers' message centered on three issues identified by the SPIE Engineering, Science, and Technology Policy (ESTeP)committee:

Overhauling U.S. export controls to create American jobs, including support for the Administration's Export Control Reform Initiative, and limiting export restrictions to militarily critical components and capabilities that provide significant U.S. security advantages when compared to equivalent foreign products.
Long-term funding for technology R&D and scientific research, including full funding of the America COMPETES Reauthorization Act of 2010 and for key science agencies during fiscal year 2013.
Prioritized spending for STEM education programs to develop the scientific and engineering talent base needed for a competitive 21st century economy, achieve energy security, and sustain global leadership in science.
Read the position papers at http://www.SPIE.org/x30092.xml.
An evening reception provided an informal opportunity for CVD participants to talk with Congressional members and staff, and included an exhibition in which company representatives demonstrated products based on discoveries and innovations resulting from federal R&D funding. Among the companies exhibiting was Schott North America.
At the reception, the SET George E. Brown Award was presented to Senator Mark Udall (D-Colorado) and Representative Randy Hultgren (R-Illinois). The award recognizes their outstanding efforts to advance and promote science, engineering, and technology on Capitol Hill.
CVD participant briefings included talks by Kei Koizumi, White House Office of Science and Technology Policy; Matthew Hourihan , AAAS R&D Budget and Policy Program; Dan Byers, House Science, Space and Technology Committee; Dahlia Sokolov, Minority Subcommittee on Research and Science Education; and Representative Frank Wolf (R-Virginia).
Achievements from federally funded science, engineering and technology include global environmental monitoring, lasers, liquid crystal displays, and the Internet, among many other scientific and technical advances.
Technology transfer from academic research adds billions of dollars to the economy each year and supports hundreds of thousands of jobs.
Additional information concerning the 2012 Congressional Visits Day is at http://www.setcvd.org.
About SPIE:
SPIE is the international society for optics and photonics, a not-for-profit organization founded in 1955 to advance light-based technologies. The Society serves nearly 225,000 constituents from approximately 150 countries, offering conferences, continuing education, books, journals, and a digital library in support of interdisciplinary information exchange, professional growth, and patent precedent. SPIE provided over $2.5 million in support of education and outreach programs in 2011.