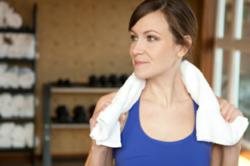 It's never been this affordable and convenient.
Napels, FL (PRWEB) May 15, 2012
XT50 Fitness announced today that they have reduced their monthly membership rate to $9.95 as part of new summer pricing. Members will be locked into this rate for the life of their membership and can take advantage of all the online workout videos on computer, iPad®, iPhone®, Android®, TV, and any other internet ready device.
"We are just a couple months into our site launch and we are receiving a lot of great feedback about the workouts and the results people are getting," states Jim Steffen, XT50 Trainer. "For most of our members, this is the first time they have tried an online fitness program and they really like the product we are offering, especially at this new membership price.
Online Fitness sites like XT50 offer the same total body workout you would get in a traditional gym, but because they are delivered though internet video, the user is able to set their own workout schedule and pace; thus, the price is much less than the membership of a traditional gym or fitness center.
Steffen goes on to say, "We are offering world class fitness training for 33 cents a day. It's remarkable when you think about it. I've been in the fitness industry for 22 years and this is a very exciting time for anyone who wants to take their fitness to the next level. It's never been this affordable and convenient."
Existing members will be notified of this rate change through email and will be able to check that they are receiving this new rate by visiting XT50.net. The Members Services page allows users to modify their subscriptions and services.
XT50 Fitness is designed for any age or fitness level and promises a gym quality workout that delivers real results. They post new cross training workout routines every week and allow unlimited access via any internet ready device or connection.
The XT50 workout plan is based on simplicity ease of use for the end user. There are no journals, form or plans to fill out. Members simply workout 3-4 times a week by picking any video in the library, then follow along at their own pace and intensity. Each workout is approximately 50 minutes in length and is named after a state in the U.S. Members are encouraged to print the provided map and check off each state they do until they have completed all 50. Members can then mail in their completed maps for a free XT50 T-Shirt. The shirts cannot be purchased and are only available to those who have completed the 50 workouts.
The XT50 program was developed by Jim Steffen. Jim has appeared on Jay Leno, Live! with Regis and Kelly, ESPN's Sports Nation and numerous other outlets as America's Fun Fitness Coach and he regularly speaks to businesses, schools and organizations around the country about the importance of good physical fitness and how it improves everything in your life.
Additional details and contact information is available at http://crosstrainingandfitness.com