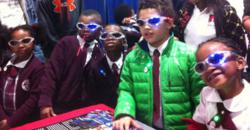 The festival drew more than 150,000 visitors over three days.
Bellingham, WA, and Washington, DC (PRWEB) May 15, 2012
Popular hands-on demonstrations of optics and photonics technology including lasers and next-generation lighting drew visitors to the SPIE booth at the USA Science and Engineering Festival in Washington, D.C., 28-29 April.
Hosted by Lockheed Martin in cooperation with more than 500 science organizations, the festival drew more than 150,000 visitors to the Walter E. Washington Convention Center over three days. SPIE, the international society for optics and photonics, was an Official Partner of the festival.
SPIE participated in the Festival Finale Expo kick-off with an invitation-only "Sneak Peek Friday" on 27 April for underserved schools, homeschoolers, military families, and House and Senate members.
The SPIE booth ― featuring a giant kaleidoscope, laser graffiti, and ultraviolet beads ― was one of more than 500 exhibits offering hands-on activities for students of all ages.
SPIE Three Rivers Student Chapter members Cody Shukis, Josh Turner, Matt Bradnan, and Kimberly Amaya helped staff the SPIE booth, along with SPIE Fellows Carmiña Londoño and Mike Postek and society members Andrea Rosales-Garcia and Christopher Baldwin.
The USA Science and Engineering Festival supports the objectives of the Race to the Top initiative led by the U.S. Department of Education. The campaign emphasizes the need for:

Designing and implementing rigorous standards and high-quality assessments
Attracting and keeping effective teachers and leaders in America's classrooms
Supporting data systems that inform decisions and improve instruction
Using innovation and effective approaches to turn -around struggling schools
Demonstrating and sustaining education reform.
SPIE programs target similar objectives to further science, technology, engineering, and mathematics (STEM) education. Among them:

More than $440,000 in scholarships and educational outreach grants funded annually through the SPIE Educational Fund
Student Chapters and professional development programs
Tools for educators and students including hands-on projects, videos, and posters
Support for global programs such as Active Learning in Optics and Photonics, the Winter College in Optics and other programs at the International Centre for Theoretical Physics, and programs providing free access to content in the SPIE Digital Library
Visiting Lecturer programs.
About SPIE
SPIE is the international society for optics and photonics, a not-for-profit organization founded in 1955 to advance light-based technologies. The Society serves nearly 225,000 constituents from approximately 150 countries, offering conferences, continuing education, books, journals, and a digital library in support of interdisciplinary information exchange, professional growth, and patent precedent. SPIE provided over $2.5 million in support of education and outreach programs in 2011.