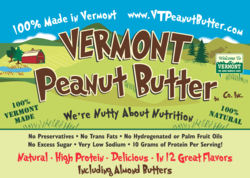 We're Nutty about Nutrition
Morrisville, Vermont (PRWEB) May 14, 2012
The Vermont Peanut Butter Company announced today that it is extremely excited to be a part of the KICKSTARTER community, by using this tool in part for the funding of the new line of the HIGH-PROTEIN nut butters. KICKSTARTER helps build a community around projects and future company goals through a unique way of becoming an actively involved community. Health and nutrition are the ingredients that make Vermont Peanut Butter Company stand out.
The Vermont Peanut Butter Company delivers a new way to think about America's number one love affair with peanut butter and almond butter! They strive to change the way people think about this staple, nutritious and fun food. Vermont Peanut Butter has gone back to the roots of healthful nut butters with a twist. The company has added HIGH-PROTEIN, healthy roasted peanuts, sea-salt, organic ingredients, and scrumptious flavors which are the Companies signature.
Chris Kaiser CEO, of The Vermont Peanut Butter Company, a lifetime athlete and health-nut and launched his Company to create a better, healthier, staple food- for kids, athletes, and families alike. As to the importance of making good healthy choices morning noon and night, Chris stated, "I simply do not know how I would start my day if it was not for peanut butter."
Vermont Peanut Butter Company Inc.
125 Munson Ave
Morrisville, VT 05661
(877) 846-6887
http://www.vtpeanutbutter.com