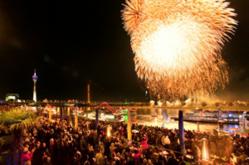 The whole city center and "the longest bar in the world" will be taken over by Japan Day.
Düsseldorf, Germany (PRWEB) May 14, 2012
The population of Düsseldorf more than doubles during the annual Japan Day, and the 11th anniversary of this annual festival will be no exception: more than 1 million visitors are expected for this one-day event in this city of about 600,000, which now ranks No. 5 in quality of life on a list of global cities (source: Mercer 2011 Quality of Living Survey). Japan Day is a huge outdoor cultural festival and one of the biggest and most popular in a city of world-class annual festivals.
Why is there an event like Japan Day in Düsseldorf? Because the city is the center of Japanese life in Germany. There are more than 12,000 Japanese people living and working in the region, the largest number anywhere in Germany and the third-largest population in Europe. Drawn by the many Japanese and foreign companies located here (450 Japanese companies are located in Düsseldorf) the Japanese have long had a big influence on Düsseldorf and its cultural offerings.
The whole city center, known as the "Old Town" and home to "the longest bar in the world" (260 bars and pubs in under a mile), will be taken over by Japan Day, with a main outdoor stage on the Rhine Promenade as the focus. The festival will feature a 9-hour cultural program of musical performances that include jazz pianist Yasuto Ohara; a smaller second stage called "pop culture zone" with headliners such as J-Pop artist "Désirée Richter,", "Ongaku no Kara" and "Yuimino"; and a third stage for sports-related performances such as sumo and judo. A Japanese-German soccer tournament is also part of the program, as is a street fair with more than 55 booths offering artistic workshops such as manga drawing and Ikebana, as well as many Japanese and other culinary delights.
The program kicks off at 1pm, and the festival ends with a large Japanese fireworks at 11:30 pm. The theme of this year's fireworks is "200 years of Grimm's Fairy Tales," promising a symphony of popular fairy-tale motifs like Snow White and Hansel & Gretel, over the night sky over the Rhine River by Japanese expert pyrotechnics.
The city's tourism office, Düsseldorf Marketing & Tourismus GmbH, offers hotel and city specials for visitors who would like to come for one night or the whole weekend, starting at 55 euros per person and include hotel nights, breakfast, free public transportation and other services.
For more information about Japan Day, visit: http://www.japantag-duesseldorf-nrw.de
For more information of hotel and visitor specials, visit http://www.visitduesseldorf.de
Düsseldorf Marketing & Tourism GmbH is the visitors and convention bureau of the city of Düsseldorf. Its responsibilities include tourism and city marketing, as well as conference and meeting marketing, hotel reservation services, fairs and convention services, city event ticket sales and advance ticket reservations. For more information, visit http://www.visitduesseldorf.de.
Düsseldorf International Airport, Germany's Next Generation HubTM, offers several non-stop flights from US & Canadian cities (Atlanta, Chicago, Ft. Myers, Los Angeles, Las Vegas, Miami, New York, Newark, Toronto, San Francisco, Vancouver), as well as convenient connections to many European cities. For more information about the airport, visit http://www.duesseldorf-international.de.