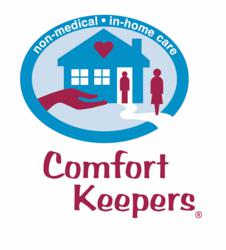 Our Comfort Keepers of the Year are the epitome of what a caregiver should be. They go above and beyond to help deliver the promise we make to all of our clients- to provide the highest level of quality of life that is achievable.
Dayton, OH (PRWEB) May 11, 2012
It is not every day that one comes across an individual who goes out of their way to help a dementia patient remember a piece of themselves by playing make believe, or who spends countless hours learning how to quilt because it is the only way a grandmother will come out of her shell, and who goes above and beyond their calling as a caregiver to make sure their clients are loved, cherished, and taken care of like a member of their own family.
Comfort Keepers, a leading in-home care company for seniors and other adults, has found these individuals and named them the top caregivers in its franchise system. These "Comfort Keepers® of the Year" were voted on by the franchise system as the top caregivers in the nation. Comfort Keeper is the name given to caregivers in the Comfort Keepers national network.
Congratulations to Nancy Heslop from Cincinnati, OH; Pamela Jordan from Hyannis, MA; Lea Murray from Leawood, KS; Amy Kirkeide from Blaine, MN; Vickie Paugh from Gainesville, FL; Peggy Antosh from Pittsburgh, PA; Nancy Bird from Anaheim, CA; Beatrice Barrett from Red Bank, NJ; and Sabina Bonasera from Addison, IL.
These nine caregivers were nominated by the local franchise staff and clients based on their demonstration of professionalism, exceptional client care services, teamwork with colleagues, collaborative relationships with the family of the client, and extraordinary personal characteristics.
Comfort Keepers provides in-home care services on an hourly, daily or weekly basis with tailored packages customized to an individual's needs. Services include companionship, meal preparation, light housekeeping, grocery shopping, incidental transportation, laundry, recreational activities, and more.
All Comfort Keepers undergo thorough local and national criminal and driving background checks that ensure dependability and reliability. In fact, families employing Comfort Keepers' services versus an independent caregiver are not responsible for Workers' Compensation, taxes, background checks, or theft and injury liabilities.
"At our company, people come first. Helping seniors maintain their independence is what being a Comfort Keeper® is all about," said Jim Booth, President and CEO of CK Franchising, Inc., the franchisor of Comfort Keepers. "This year we honor nine caregivers who are the epitome of what a Comfort Keeper should be. They believe in our mission, work with purpose and passion, and have motivated and inspired clients to go beyond their limitations. They have gone above and beyond to help deliver the promise we make to all of our senior clients - to help provide the highest level of quality of life that is achievable."
Click here to watch videos of each Comfort Keeper of the Year explain what being a Comfort Keeper means to them.
About Comfort Keepers
Comfort Keepers® is a leading franchise network in the in-home care market for senior and other adults needing care. Since its founding in 1998, the company has grown to more than 700 franchised locations around the world by staying true to the founders' goal of providing in-home care services that allowed their clients the opportunity to age in place. In August of 2009, the brand was strengthened even further by the purchase of the franchisor, CK Franchising, Inc., by Sodexo, one of the world's leading food and facilities management services companies and the global leader in the health care and seniors markets. For more franchise information, visit http://www.comfortkeepers.com.