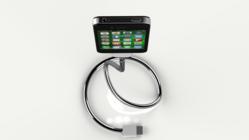 Your iPhone cable is now your iPhone stand. (macgasm.net)
Akron, OH (PRWEB) May 11, 2012
The newest iPhone accessory, Une Bobine, is quickly on its way to becoming a box office hit.
[Fuse]Chicken launched its most recent invention on kickstarter.com Monday May 7th seeking $9800 in funding necessary to begin production of a truly unique iPhone accessory. Within hours the project was fully funded and by day 3 Une Bobine is over 350% funded. Pledges continue to roll in at a rate as high as 5 units per minute and are trending towards great kickstarter success. With over 1500 units sold in the first few days, Une Bobine is a finalist for The William McShane Fund from Buckyballs and Brookstone.
[Fuse]Chicken began the launch of Une Bobine in early May with its witty video trailers about a stick figure named Bob and his love for iPhone. The product has quickly taken the iPhone accessory world by storm. Une Bobine has been featured on various blogs focused on all things tech such as Mashable, 9to5 Mac and TUAW.
Une Bobine, a coil, is the first iPhone charger of its kind, adjusting according to your mood in the car or office to create a completely versatile and stable iPhone stand. FaceTime, synching to iTunes and even photography are all made easy with Une Bobine. Une Bobine's flexibility eliminates the need for all other stands. "Your iPhone cable is now your iPhone stand." (macgasm.net)
For more information, please visit http://www.fusechicken.com.
[Fuse]Chicken is an extension of Fawcett Design, a research, design, and engineering studio in Akron, Ohio. For over 25 years, Fawcett Design has partnered with companies of all sizes to deliver innovative and award winning products.
Media Contact:
Jon Fawcett
Twitter: @jefawcett
jon(dot)fawcett(at)FuseChicken(dot)com
http://www.fawcett.com
http://www.fusechicken.com