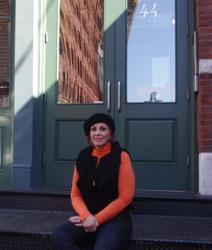 The Tribeca neighborhood is one of my favorite places in Manhattan, and now I can do permanent makeup for all the women who've been patiently waiting for me to get there."
New York, NY (PRWEB) May 11, 2012
It reads like a "man bites dog" story. When you think of plastic surgeons, you picture highly-skilled doctors performing cosmetic enhancement procedures such as a facelift on patients. In this case, New York's most innovative plastic surgery practice is at it again. Instead of doing a facelift…it is getting one. And it is doing so to benefit all of the women in the Greater New York City area who are interested in enjoying a more beautiful, more youthful, and easier to maintain appearance.
Tribeca Plastic Surgery is located in Tribeca, Lower Manhattan's exclusive, star-studded community. The practice is led by a pair of stars on the Plastic Surgery New York scene, Sydney Coleman, M.D., world-renowned pioneer of the anti-aging, fat-grafting technique, "Lipostructure," and Alesia Saboeiro, M.D., New York City's premiere, board-certified, female plastic surgeon. The facelift they're now unveiling comes in adding Sally Hayes, the country's leading expert permanent makeup artist to the top-notch Tribeca Plastic Surgery Team.
"Permanent makeup is very popular among women leading an active lifestyle," says Saboeiro. "It makes life easier by saving real time and effort in applying and re-applying makeup. It also works great for women who have had plastic surgery, whether it's done for camouflaging areolas or facelift scars, or enhancing your appearance with natural-looking tattooed eyebrows, permanent eyeliner, or permanent lip makeup."
"We would only take in a true permanent makeup professional," says Coleman. "New Yorkers demand excellence. Tribeca Plastic Surgery patients fully expect it. Sally Hayes came highly recommended by my trusted Las Vegas colleague, Julio L. Garcia, M.D. She is skilled, experienced, honest, passionate about patient care and their time."
"This is a dream opportunity for me," says Hayes. "I just love going to New York and have been hoping to work there for a long time. I've had profound respect for Dr. Coleman's reputation around the world and know of nothing but great things about Dr. Saboeiro, too. The Tribeca neighborhood is one of my favorite places in Manhattan, and now I can do permanent makeup for all the women who've been patiently waiting for me to get there."
For more than 25 years, Hayes has specialized in undetectable permanent makeup of eyebrow tattoos, permanent eyeliner, permanent lip color, and cosmetic camouflage. She has done tens of thousands of procedures for clients in her Permanent Makeup Scottsdale, Permanent Makeup Los Angeles, and Permanent Makeup Las Vegas locations.
Women in and around New York who want to easily enhance their appearance, save time, and enjoy added confidence for years to come, can make their own dream come true of freedom from worrying about makeup. You can book your appointment now for procedures or consultations with Sally Hayes at Tribeca Plastic Surgery on May 21-22, 2012. Call (718) 644-2366.
About Sally Hayes Permanent Makeup
Sally Hayes is the leading expert artist in the permanent makeup industry. She is referred by and endorsed by many of the top cosmetic surgeons across the United States, and has successfully performed tens of thousands of permanent makeup procedures since 1988. Based on her proven skills and expertise, she is recognized as the leading authority on the subject of permanent makeup.
For more information, visit http://www.PermanentMakeupNewYork.ORG