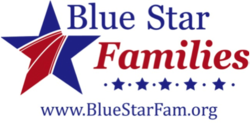 As an estimated one million veterans return to civilian life over the next three years, the reintegration tools and training will be vital to helping a smooth transition to veterans and their families.
Washington, D.C. (PRWEB) May 11, 2012
Blue Star Families, a national non-profit of, by and for military families, is proud to announce today the organization's participation in the newly launched "Got Your 6" campaign, designed to mobilize the entertainment industry to build awareness around key military service member, veteran and family issues. In coordination with the Got Your 6 campaign, Blue Star Families, the Military Child Education Coalition, and their partners will provide reintegration tools and training to 300,000 military families and 100,000 primary and secondary school educators by December 2014.
"Blue Star Families is very excited to be a part of Got Your 6," said Noeleen Tillman, Blue Star Families director of external affairs and a 25-year U.S. Air Force spouse. "This campaign is poised to create much needed awareness around military families, especially as an estimated one million veterans return to civilian life over the next three years. The reintegration tools and training will be vital to helping a smooth transition to veterans and their families."
Developed together with the Military Child Education Coalition (MCEC) and additional partners, the reintegration tools and training will provide military veterans and families key tips, strategies and resources for easing the transition to civilian life. Each tool kit will include information on family exercising for reducing conflict and rebuilding relationships, as well as symptoms of Post Traumatic Stress Disorder (PTSD) to look for. The training for educators will focus on helping teachers understanding the unique stressors military children face, and how to best assist.
Initially conceived as an entertainment industry commitment at the Clinton Global Initiative America convening in Chicago in June 2011, Got Your 6 will mobilize the assets, expertise and talent of the entertainment industry, spanning film, television, gaming, print, radio, outdoor media, and social platforms to build awareness around this important issue.
The campaign will generate additional visibility through ongoing news media engagement, script integrations for TV and film projects, and original digital content, all of which are made possible by the pledged support of industry leaders and talent involved in Got Your 6.  The campaign will also offer pathways for the American public to connect and engage with Got Your 6, such as iconic branded merchandise, special events, and "calls to action" for the individual.
Got Your 6 brings together more than two dozen top-tier, national non-profit organizations that serve as the subject matter experts for the important veterans issues at the core of the overall campaign.  Each of these non-profit partners will have opportunities to showcase their initiatives and groundbreaking ideas through the reach and relationships of Got Your 6 and to tap in to the web of resources within the Got Your 6 community.
About Blue Star Families
Blue Star Families (http://www.bluestarfam.org) is a national, nonprofit network of military families from all ranks and services, including guard and reserve, with a mission to support, connect and empower military families. In addition to morale and empowerment programs, Blue Star Families raises awareness of the challenges and strengths of military family life and works to make military life more sustainable. Membership includes military spouses, children and parents as well as service members, veterans and civilians.
About Got Your 6
Got Your 6 is a campaign designed to change the conversation in America such that veterans and military families are seen as civic assets and leaders who will reinvigorate our community. The campaign combines the reach and resources of the top American entertainment studios, networks, guilds and agencies with the expertise and commitment of more than two dozen non-profit organizations. Through an extensive media footprint and a set of substantial service commitments, Got Your 6 will ensure successful reintegration of veterans into civilian life. For more information, visit http://www.gotyour6.org. Mering-Carson developed the Got Your 6 brand and star/six device, and related creative. Brand Knew LLC developed the GotYour6.org website and the social media presence.
Media Contact:
Stephanie Himel-Nelson
Stephanie(at)BlueStarFam(dot)org
703.472.6292
AnnaMaria White
AMWhite(at)BlueStarFam(dot)org
917.579.4716