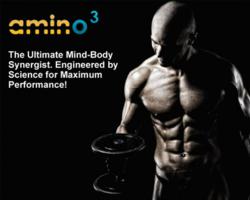 I have made great gains in strength and power... I absolutely won't train without amino3! - World bodybuilding champion, Fausto Ascani
(PRWEB) May 14, 2012
Many supplement companies are discovering that cutting corners simply does not pay. While ingredients such as DMAA (1,3-dimethylamylamine) may provide cheap solutions in the short run, numerous studies have now discovered links between DMAA to potentially dangerous adverse reactions. This is just one example of how many top supplement companies have failed to protect their customers and how one leading manufacturer, Apollo Nutraceutical serves to safeguard against such quality infringements with its industry leading supplement products.
Introducing the amino3 synergyst compound™, the next evolution in pre-workout supplements which delivers a complete mind body synergy without compromising on its unparalleled safety standards. Recognised internationally, amino3's effectiveness has been attested to by world class swimmers, martial artists and two time Italian bodybuilding champion and second place Mr Universe and Mr World holder Fausto Ascani who was quoted saying "I have made great gains in strength and power... I absolutely won't train without amino3."
While a majority of the supplement industry is being turned upside down for their decision to use the cheap yet potentially dangerous DMAA stimulants in their products, Apollo Nutraceutical took the hard road to develop the most comprehensive and effective pre-workout supplement available in the market today. Only the safest ingredients were considered in its manufacture. Supported by years of scientific research and testing, Apollo Nutraceutical had discovered the world's first mind - body synergist, and created from this their exclusive amino3 supplement.
So what is a mind-body synergist? At its most basic level it has always been accepted that there is a powerful connection between the mind and the body. And as such, to neglect the mind when it comes to achieving your peak physical performance has always been something other supplement companies have commonly overlooked. It is for this reason that amino3 presents the next revolution in pre workout supplement technology, targeting the mind as well as the muscles of the body, to push you to previously unobtainable levels of explosive power and focus.
Amino3 establishes itself as a clear industry leader through its potency, purity and sophistication of its ingredients. Innovation and quality are not cheap shortcuts but are crucial in delivering first rate performance products and safety standards engineered to meet with international athletic guidelines. In line with these high quality standards, amino3 has a number of advanced creatines in its exclusive synergyst formula which promote gains in lean muscle mass, recovery and strength. The active ingredients used in the amino3 are supported by research conducted by Australian Institute of Sports (or "AIS") recognized best practice standard for high performance athletic development, AIS has classified the active ingredients in amino3 within its top category A and B Supplement Classification System. All Apollo Nutraceutical supplement products and are tested intensively with the use of microbial infrared assay, gas chromatography, HPLC, purity and KB Scale methods.
Simply put, you don't become the best pre-workout supplement on the market by offering a second best product. With amino3's unique powder-based formulation, athletes get the highest concentration of ingredients that enable the body to absorb the vital performance enhancing ingredients faster and more efficiently for improved results. More than just shallow promises, amino3 provides a guaranteed highest quality pre-workout bodybuilding and sports supplement that has also been industry verified by the NSF during its production cycle. The NSF is an accredited third party certification provider with over 60 years of experience in verification and testing of nutritional products.
All Apollo Nutraceutical products are manufactured in state of the art production facility which is a member of the Natural Products Association and is QAI Certified Organic.