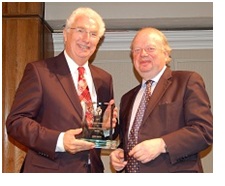 Cheshire,UK (PRWEB UK) 22 May 2012
The Chemical Business Association (CBA), announced the winners of its 2012 annual industry awards for chemical supply chain excellence. CBA also presented its inaugural Community Interaction Award for engagement with local communities.
The Awards were made at CBA's Annual Lunch at the Grosvenor House, Park Lane, London, before an audience of more than eleven hundred industry representatives and their guests and were presented by journalist and broadcaster, John Sergeant.
Community Interaction Award Winner is Mike Smith of Norkem
CBA's Community Interaction Award aims to recognise excellence in community interaction by CBA member companies as active corporate citizens and in promoting a positive image of the industry.
Next year, the Community Award will be open to all CBA member companies but the inaugural Award was presented to an individual who has made several major commitments to educational good causes.
The winner was Mike Smith, Chairman, Norkem. He was the prime mover in funding Chemistry with Cabbage – the award-winning educational initiative which now provides science workshops for 200 primary schools and more than 6,000 pupils every year. He was also the driving force behind Chemicroc – an educational website providing an on-line environment helping primary school pupils to learn about chemistry.
When asked about the award Mike said " It is always a great honour to be recognised by your industry sector, but this award is particularly special because of the association with helping children's education and getting them interested in science."
About Norkem
Privately owned, Norkem was established in 1970. Their head office is located in the UK, with additional offices in The Netherlands, China, Spain and Australia plus worldwide production and storage facilities. To learn more visit http://www.norkem.com