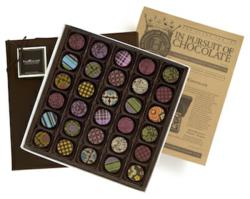 My mother is really difficult to shop for and I never know what to get her. I decided to give her a 6-month Gift membership to Gourmet Chocolate of the Month Club and she hasn't stopped talking about it since!


Justin H., Glen Ellyn, IL

Lake Forest, CA (PRWEB) May 11, 2012
Another Mother's Day has crept up and left many wondering about the best way to show love and appreciation for the maternal influences in their lives. This year, a truly unexpected way to indulge mom is a gift membership to the Gourmet Chocolate of the Month Club.
What woman wouldn't consider a chocolate club featuring world-class confections the perfect way to feel special each month? Members receive creative interpretations from international chocolatiers dedicated to quality, such as Skellig's Champagne Fizz Truffles from Ireland, or Gudrun's Passion Fruit Heart—a dainty dark chocolate heart engulfing rich caramel and delicately tart passion fruit pulp.
The Gourmet Chocolate of the Month Club's distinctive creations are made with the purest ingredients. Each artisan chocolatier travels the world to find the very best there is to offer, resulting in signature cacao bean blends or Grand Cru single-bean chocolates renowned for their quality and aromatic flavors. Secret roasting and conching techniques elevate these chocolates to an art form. These highly-praised experts illustrate their mastery of the craft by producing complimentary tastes and textures with the perfect flavor snap and a characteristic long finish on the palate.
Grateful mothers everywhere will have the pleasure of sampling rare treats with limited distribution, like fudge made by Benedictine monks and cherry chocolate bread created with the finest Callebaut and Valrhona chocolates. Each month's featured selections are so different from their mass-produced counterparts—which generally include fillers and additives and very little actual cocoa—that Mom may be permanently spoiled.
Accompanying each month's shipment is the club's enlightening newsletter, describing the processes by which each tantalizing creation is made. Details about what makes different types of chocolate distinct, as well as how cacao beans magically become such decadent treats will give Mom much to ponder as she savors her thoughtful gift.
Memberships are just $30.95 per month plus shipping, and can be paid monthly or in one installment. Choose for Mom to receive these tokens of affection for anywhere from two to twelve months, and show Mom how much she is loved with every delectable bite.
As one of six C&H Gift of the Month Clubs, the chocolates can be paired or alternated with boutique wines, gourmet cheeses and fresh cut flowers for birthdays and holidays all year round. The premium cigars and microbrew beers monthly clubs also make thoughtful gifts for the special men in our lives.
For more information about the Gourmet Chocolate of the Month Club, visit http://www.ChocolateMonthClub.com or call 800-625-8238.
About Us:
Established in 1994, Gourmet Chocolate of the Month Club is just one of the six Monthly Clubs owned and operated by C&H Clubs International. With almost two decades of delivering gourmet products right to their customer's door steps, C&H has earned an A+ Better Business Bureau rating and a loyal customer base.