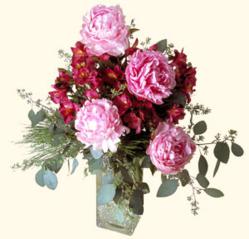 These are the longest lasting cut flowers I have ever had. Thanks for the great service and for the wonderful flowers! I look forward to my next delivery! -Cynthia Bryant
Lake Forest, CA (PRWEB) May 11, 2012
Mother's Day is just around the corner, accompanied by the panic of sons, daughters and husbands as they struggle to find a gift that says "I love you" in just the right way. With monthly flower delivery from the Fresh Cut Flower of the Month Club, appreciative offspring and adoring husbands need look no further.
Every woman enjoys a touch of beauty to enhance her surroundings. With a new delivery of exquisite seasonal blooms and complimentary greenery each month, mothers can enjoy the essence of spring all year long. Selections of Hawaiian "Pink Ice" Proteas, Costa Rican Red Torch Parakeet Heliconias, or La Reve Oriental Lilies are sure to make a lasting impact on any woman with a discerning eye for beauty.
Expert floral consultants determine the ideal arrangement for each monthly flower delivery. Only the highest quality blooms are selected, ensuring long vase life and durability during shipping. Unbeatable beauty, fragrance and variety elevate this flower club to a class above the rest.
The Fresh Cut Flower of the Month Club receives blooms within one day of cutting, which is much sooner than local florist shops. All bouquets are packaged that same day and shipped Next Day Express in specially designed, insulated boxes. Because the buds are cut before they bloom, each bouquet will reach its peak of beauty within two or three days of receipt. When treated with the accompanying flower food, these selections will have a much longer life span than that of an ordinary arrangement.
As an added bonus, every mother will receive the absorbing and illuminating newsletter that accompanies each month's beautiful blooms. In it, she will discover the manner in which each blossom is cultivated as well as suggestions for arranging and extending the life of the bouquet. Details about the flowers' origins and associated legends make the newsletter a delightfully informative read.
Gift memberships are only $28.95 plus shipping. Choose for Mom to receive her blooms anywhere from two to twelve months, and select monthly payments or one installment. Mom will revel in her family's adoration each time she receives her hand-selected exotic bouquet.
As one of six C&H Gift of the Month Clubs, the flowers can be paired or alternated with boutique wines, gourmet cheeses and premium chocolates for Mother's Day and holidays all year round. The premium cigars and microbrew beers monthly clubs also make thoughtful Father's Day gifts for the special men in our lives.
For more information about the Fresh Cut Flower of the Month Club, visit http://www.FlowerMonthClub.com or call 800-625-8238.
About Us:
Established in 1994, Fresh Cut Flower of the Month Club is just one of the six monthly clubs owned and operated by C&H Clubs International. With almost two decades of delivering gourmet products right to their customer's door steps, C&H has earned an A+ Better Business Bureau rating and a loyal customer base.