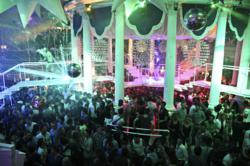 We hope all of our customers have a great time in Ibiza this year
London, UK (PRWEB) May 12, 2012
Customers of Private Jet Central are planning to fly private jet from London to Ibiza in record numbers for the opening parties of the 2012 summer season. The first major party of the year takes place at Es Paradis in San Antonio on Friday the 18th of May and is expected to attract thousands of clubbers from all around the world. The opening and closing parties are the highlight of the Ibiza party season for many veteran clubbers and DJ's and PJC has seen a significant increase in bookings in the run up to the opening parties.
More than 20 opening parties will be held in May and June for what promises to be one of the busiest and best summer seasons on the White Isle. Highlights in May include the All Gone Pete Tong and Defected opening parties at Pacha on Friday 25th and Saturday 26th and the world famous Amnesia opening party. The fun and frolics continue into June with Hed Kandi, Twice as Nice and Eden all opening with spectacular events.
The Director of Aviation at Private Jet Central has said, "The flight route to Ibiza is one of our busiest during the summer months and there is always a spike in demand for the opening and closing parties." He also added, "We hope all of our customers have a great time in Ibiza this year."
People wishing to experience all of the delights of Ibiza this summer can fly private jet from Liverpool to Ibiza with Private Jet Central. They specialise in creating tailor made packages to Ibiza and hundreds of other destinations around the world. With 24/7 access to dedicated flight consultants and the choice of jets of all sizes PJC offer a unique and personalised service to private jet users in the UK and the Middle East.
About Private Jet Central
Private Jet Central is a global jet charter company with offices in the United Kingdom, United States and the Middle East. Founded in 2001 they offer a range of jet charter services to business and pleasure users in the UK and Europe. With over 10 years' experience in the jet charter industry they are ideally placed to meet their client's requirements. More information on the full range of services offered by Private Jet Central is available from their website at http://www.privatejetcentral.com/ and also by contacting any of their offices by phone or via e-mail.