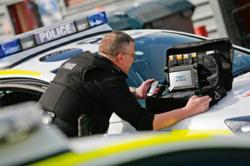 The reporting and verification of mobile phone data capture by regional law enforcement bodies using ACESO has provided remarkable results at all levels of criminal activity
Southampton, Hampshire (PRWEB UK) 14 May 2012
Radio Tactics has announced the roll out of its specialist ACESO mobile device data extraction solution into Metropolitan Police Service boroughs across the metropolis, as part of a wider partnership to collaborate on technology to solve crime.
Hailed as one of the most comprehensive and evidentially-sound mobile phone forensics products within the law enforcement sector, ACESO is transforming the way mobile phones that are suspected of being used in criminal activity are examined and interrogated. Police forces throughout the UK are relying on ACESO's fast, accurate capture of handset data, which can be retrieved within minutes, ensuring officers can act on information held on a device while a suspect is still in custody. The deployment is expected to substantially reduce the costs associated with traditional, outsourced evidential processing methods, which can lead to months of delays, particularly for low level criminal cases.
The Metropolitan Police Service (MPS) has invested in the ACESO Kiosk data extraction solution, which comprises an intuitive, fully-guided touchscreen desktop data acquisition tool, designed exclusively for frontline law enforcement operators and which will be rolled out for use by dedicated officers across 16 London boroughs participating in tackling street crime and burglary in the coming weeks.
'Mobile phones and other devices are increasingly being used in all levels of criminal activity,' explains Stephen Kavanagh, Deputy Assistant Commission of the Metropolitan Police Service. 'When a suspect is arrested and found with a mobile phone that we suspect may have been used in crime, traditionally we submit it to our digital forensic laboratory for analysis. Therefore, a solution located within the Boroughs that enables trained officers to examine devices and gives immediate access to the data in that handset is welcomed. Our ability to act on forensically-sound, time-critical information, from SMS to images contained on a device quickly gives us an advantage in combating crime, notably in terms of identifying people of interest quickly and progressing cases more efficiently.'
The MPS ACESO deployment also includes a bespoke package of specialist training programmes, which will be held for over 300 Met personnel, leading to a powerful in-house training resource led by the MPS Directorate of Forensic Services that will equip teams with a highly skilled, 24/7 mobile device interrogation capability.
Indeed, Radio Tactic' CEO, Andy Gill has pointed to the success of other UK police forces that have adopted a similar ACESO deployment model and who have now seen a substantial reduction in the burden of mobile phone forensic processing on the criminal justice system.
'The reporting and verification of mobile phone data capture by regional law enforcement bodies using ACESO has provided remarkable results at all levels of criminal activity,' reveals Andy. 'The intuitive design of ACESO has ensured that front line operators of all technical ability are able to increase the numbers of real-time examinations carried out and make informed arrests within minutes in many cases. ACESO deployments are curtailing the constraints of time and cost associated with outsourced data extraction thanks to the rapid progression and closure of cases, helping regional police forces meet their increasingly strict KPIs in the process.'
You can find out more about ACESO Kiosk for desktop environments and ACESO Field for portable applications at http://www.radio-tactics.com. Please contact us for specialist enquiries about the ACESO range of mobile device data extraction tools.
About Radio Tactics Ltd
Radio Tactics Limited is a specialist innovator of high-tech digital intelligence and evidence-gathering equipment that is used to interrogate mobile phones, GPS and portable digital devices and provide real-time capture of intelligence and evidence. Radio Tactics' cutting edge solutions are deployed in the most demanding environments and trusted by the military, law enforcement organisations, governments and intelligence agencies around the world. Visit http://www.radio-tactics.com for more information.