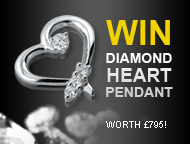 Hatton Garden, London (PRWEB UK) 14 May 2012
Women around the world happily anticipate the time when their boyfriend will become their fiancé. Men spend countless hours looking for just the right engagement ring for the woman they want to spend the rest of their life with. Buying an engagement ring is one of the most important investments that a man makes. Of course, buying the ring is not the last step. The final step is to pop the question. Men spend quite a bit of time planning for just the perfect opportunity to pop the question. Sometimes things go just as planned, and sometimes they do not go as planned. Either way, there is often a romantic, funny, crazy, or memorable story about the day a man proposes that will be told for years to come.
Diamond Rocks, a company which offers a variety of high-quality diamond jewellery products for their customers, including diamond engagement rings, is launching a new contest about the story behind your engagement ring. To enter the contests just share your romantic, funny, or even disastrous story of how you or your partner popped the question. Whether it was a picture perfect proposal, or whether it was one that is memorable for the opposite reason, Diamond Rocks wants to hear your stories so be sure to like them on Facebook and start sharing today.
The best part about this contest is that those who share their personal story with others will have the opportunity to win a diamond heart pendant worth £795.Everyone who enters the contest must tell the story of their engagement via a comment on Diamond Rocks Facebook page. One winner will be drawn from among the entrants. For more information about the contest, visit Diamond Rocks.
About Diamond Rocks
Headquartered in Hatton Garden London, Diamond Rocks is a company that delivers high quality diamond jewellery to customers in the UK. Backed by an international consortium which was founded in 1985, Diamond Rocks has offices in some of the top cities in the world. They have buying headquarters in Dubai, New York, Tel Aviv, Mumbai, and Antwerp.
Diamond Rocks offers a wide variety of different types of diamond and gemstone jewellery. There is designer jewellery, antique jewellery, children's jewellery, modern jewellery, and even loose stones available. There are always at least 1,500 items of diamond jewellery in stock so potential customers have a wide selection from which to choose. There is also a design service that Diamond Rocks offers which is free. Jewellery designed with this service is manufactured in the Diamond Rocks facility.