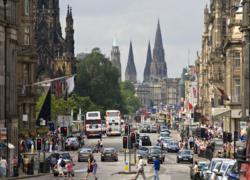 Naturally if places like Edinburgh are filled with entrepreneurial activity right now, then the chances that some of these companies will rise and generate jobs and revenue for the local and national economies improve too
UK (PRWEB UK) 14 May 2012
Edinburgh: The latest official data reveals a total of 489 new companies were registered in Edinburgh in April, improving on the previous best figures for April startups by an astonishing 23%.
Peter Valaitis, Managing Director of Duport.co.uk described the results as "fantastic" and a sign that small business is "fighting back".
He continued: "The results for Edinburgh are just magnificent. The world has changed since 2008 and that means we have to start thinking differently too. It's the small businesses of today that will become the economic giants of tomorrow. Naturally if places like Edinburgh are filled with entrepreneurial activity right now, then the chances that some of these companies will rise and generate jobs and revenue for the local and national economies improve too."
The region is benefiting from a number of schemes and initiatives to help start-up businesses get going. The East of Scotland Investment Fund is in place to provide loans of up to £50,000 to part fund viable Limited companies. Business Gateway Edinburgh has also been established to provide support, advice and information to entrepreneurs, as well as running a number of local workshops on a range of commercial subjects.
Edinburgh Business Development, Scotland's leading enterprise trust is also focussed on the "development of a thriving economy in Edinburgh and Scotland as a whole". EBD offers a mentoring programme and an informal walk-in business support service called "incubator" to advise and inform potential entrepreneurs, "no matter what their background".
Edinburgh has many established sectors contributing to the local economy including a thriving tourism trade, a bustling retail sector and a long history of banking and finance. Edinburgh also has four universities churning out graduates, many of whom will stay and contribute to the growth of the local economy.
Edinburgh already has a strong association with company registrations as the home of Companies House Edinburgh. All Limited companies formed in Scotland are entered onto the official register with Companies House Edinburgh. Last year Companies House Edinburgh accepted the registration of over 25,000 new companies.
Duport.co.uk is a leading UK company formation agent, operating in the UK for around 15 years. Duport registers around 10,000 new companies each year using its Companies House approved software. The Company Register which is maintained by Companies House contains public information about Limited companies and directors.