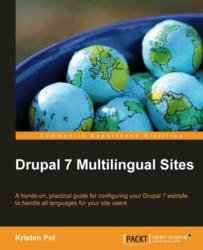 Birmingham, UK (PRWEB) May 11, 2012
Drupal 7 Multilingual Sites from Packt is a practical guide that navigates through the numerous multilingual modules, configurations, and processes to help readers build their own localized Drupal site. Written by Kristen Pol, this book will give readers the knowledge and the skills necessary to configure their site to support their language needs.
Drupal is an open source content management platform powering millions of websites and applications. It's built, used, and supported by an active and diverse community of people around the world. It can set up a website to support more than one language or to support languages other than English (also known as a localized, internationalized or a multilingual website).
Beginning with an English language Drupal 7 ecommerce site as an example, the book follows focused chapter exercises to add multiple-language support for the user interface, the content, and various parts of the configuration such as system variables, menus and blocks. Users can learn to understand the Drupal 7 localization structure, process and enabling Drupal UI to display in different languages from the book.
Users will be able to employ effective search engine optimization (SEO) techniques for their multilingual site. They would know how to set up language detection based on URLs, sessions, cookies, or domains. The latter half of the book fills in the details with step-by-step exercises for localizing the interface, the content, and the configuration.
With plenty of screenshots to guide through the many features of multilingual Drupal, this book is helpful to all Drupal users who know the basics of building a drupal site and are familiar with the Drupal UI. No previous knowledge of localization or internationalization is required. For more information, please visit http://www.packtpub.com/drupal-7-multilingual-sites/book