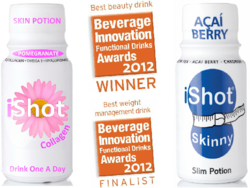 Available through Morrisons, Holland & Barret, Amazon and independents
(PRWEB UK) 15 May 2012
All Day Energy Ltd. who created the iShot "Potions 4 Life" range are enjoying growing success with new listings and record sales for their product iShot Skinny both in the UK and abroad.
The latest national listing by Morrisons, who is the 4th largest retailer in the UK with over 11 million customers passing through its doors every week.
"This is a fantastic opportunity and a milestone, allowing us a reach our customers locally on a national scale" says Kursat Uysal from All Day Energy Ltd.
iShot is also enjoying growing success on the International stage winning the "Best Beauty Drink" award for iShot Collagen and becoming the finalist for "Best weight management drink" for iShot Skinny at the 2012 Beverage Innovation Awards having already been awarded last year for "best functional drink label design" and runner up for "Best Energy Shot".
iShot is a young, dynamic brand focused on developing multifunctional, one-a-day potions within Energy, Weight Management, Fitness, Detox and Beauty markets. It is a 60 ml shot size drink developed and produced in the UK.
Bestseller iShot Skinny was developed as an alternative to pills and has functional ingredients targeting energy, appetite and fat metabolism namely Acai Berry, Green Tea, Bitter Orange Peel, Guarana, L-Carnitine, Chromium Picolinate and B-Vitamin complex.
iShot is produced in a brand new, BRC grade A accredited plant in the UK with over £2 million invested on a state of the art, fully automated processing line. iShot Skinny is available through retail, pharmacies, health stores and online.
Official launch for iShot Collagen - Skin Potion will be later this year.
Kursat Uysal, All Day Energy