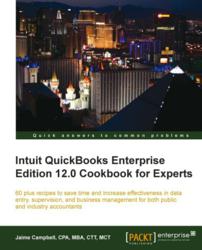 Be a hero with troubleshooting tips and error-finding methods
Birmingham, United Kingdom (PRWEB) May 12, 2012
Packt brings to readers its first ever publication on QuickBooks with the Intuit QuickBooks Enterprise Edition 12.0 Cookbook for Experts. This all-in-one guide includes more than 60 recipes to save time and increase the effectiveness in data entry, supervision and business management for both public and industry accountants.
About the Author:
Jaime Campbell leads the technology training and financial modeling services at the accounting firm of Bartolomei Pucciarelli, LLC in Lawrenceville, New Jersey, USA. She provides consulting services and expert instruction on software used by Certified Public Accountants (CPAs) and small businesses. Some of her qualifications include:
Certified QuickBooks Professional Advisor
Microsoft Certified Trainer (MCT), Certified Technical Trainer (CTT)
Certified Microsoft Master
QuickBooks Enterprise Edition 12.0 is a convenient and sophisticated accounting software, developed and marketed by Intuit. The interface is visual and intuitive, although feature-rich for mid-size businesses as well as complex, growing small businesses.
The Intuit QuickBooks Enterprise Edition 12.0 Cookbook follows a step-by-step approach designed not only to instruct but also to inspire experts to stretch what is possible - without having to become a programmer. Enterprise-level concerns such as multi-user permissions, add-on services, and document storage will be attended to by setting up QuickBooks.
This book will allow the readers to customize the QuickBooks environment and reports in order to match their working style and business operations. They will be brought up to speed with the latest techniques for achieving standard and unconventional results with QuickBooks.
Some of the essential chapters mentioned in this book are:
Chapter 1: Special Capabilities of the Enterprise Edition
Chapter 2: Customizing the Interface
Chapter 3: Items
Chapter 4: Special Tools
Chapter 5: Customizing Reports
Chapter 6: Memorized Transactions
Chapter 7: Customer and Vendor Relations
Chapter 8: Troubleshooting
Chapter 9: Keyboard Shortcuts
Chapter 10: Integration with Excel
Chapter 11: Supervisory Tools
Chapter 12: New for the 12.0 Edition
Packt Enterprise is a leading publisher of Enterprise books for Oracle, Microsoft, IBM, SAP, Citrix and other technology companies. Packt Enterprise develops books for Architects, Developers, Administrators and End User alike