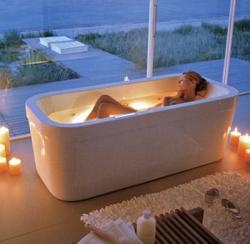 We've got such a great relationship with Duravit and we're extremely proud to be able to sell such quality products.
Colne, Lancashire, UK (PRWEB UK) 14 May 2012
UK bathroom retailer Boundary Bathrooms have their sights firmly set on constantly improving the range of products they offer, focusing on contemporary style as well as attempting to offer the best deals on the market. One such brand the company is putting a lot of focus into - supplying and actively promoting their ranges - is Duravit, a brand that is internationally renowned for its superb design and stable of famous designers.
Based in Germany Duravit supplies regular customers as well as some of the greatest hotels and leisure complexes in the world, such as the luxury Mardan Palace hotel in Turkey, and projects like these help show the customer that when they purchase a Duravit product they're being rewarded with high standards of quality.
Ranges now available at Boundary Bathrooms include those designed by the famous French designer Philippe Starck. Duravit have enjoyed a great relationship with Starck since 1992 and he's gone on to create some immensely popular ranges for the company. The original Duravit Starck 1 is a complete reinterpretation of classic designs, such as toilets and washbasins, while Duravit Starck 2 has been designed with the origins of bathroom design in mind. They continue to be best sellers for Boundary Bathrooms, and indeed Duravit as a whole.
Boundary Bathrooms also spotlights the Duravit Puravida range; a series of washbasins, toilets and bidets with soft lines and a graceful appearance. This range is designed with people who are more interested in contemporary style in mind than those who desire prestige, but with so many Duravit products available the company has ensured that the majority of tastes are catered for.
If you prefer to view bathroom products in person then Boundary Bathrooms has you covered. The company has showrooms in Colne, Lancashire and Warrington, Cheshire with a healthy amount of floorspace taken up by Duravit products. For example, Duravit 2nd Floor is represented by attractive toilets and basins that are located near the entrance to the Colne showroom, while Duravit Happy D has a bath that is pride of place in its very own section. Staff are always happy to show people where each Duravit product is, talking each customer through their personal options and budgets.
"We've got such a great relationship with Duravit and we're extremely proud to be able to sell such quality products. Obviously we only have a limited amount of floorspace in our showrooms so it's sometimes a bit of a task to choose what we want on display. However, when it comes to Duravit we are more than happy to dedicate a large portion of free space because we believe that customers really benefit from and appreciate products more when they've seen them in person. Of course we can't display everything available from Duravit, but we feel like we're showing a good range of what's on offer and we're happy to offer further advice on Duravit products whether they're in our showrooms or only available via our website" explained showroom manager Helen Seed.
Boundary Bathrooms has been supplying bathroom products for 65 years and has become thoroughly established in the online bathroom retail sector. Through their website they supply thousands of baths, basins, showers, bathroom furniture, bathroom accessories and more. They have been owned by The Grafton Group Plc, one of the largest builder's merchants in Europe, since 2007.