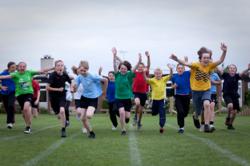 Simon Burns MP, Minister of State for Health, said: "I applaud this pledge from Premier Sport as part of the Responsibility Deal, which will mean over 200,000 children in primary schools being given increased opportunities to be more active
(PRWEB UK) 14 May 2012
Premier Sport, the largest sports coaching company of its kind for children in the UK and the founding partner of C.O.M.P.A.S.S (the Community of Providers of Physical Activity and School Sport), has pledged £150,000 worth of physical activity and sport opportunities to 1,000 primary schools as part of the Department of Health's Responsibility Deal, with the aim of engaging over 200,000 children of all abilities, from Foundation Stage to Key Stage 2.
The pledge, part of the government's Public Health Responsibility Deal, means that the first 1,000 schools to apply to Premier Sport will receive a Health and Physical Activity evaluation (HPA) day worth £150 completely free of charge. The HPA evaluation will include a full day of physical activity and school sport, plus a fitness baseline assessment for one class using the 'Golden Mile' - a physical activity programme that is being administered nationwide in order to assess the fitness levels, health and wellbeing of children.
Simon Burns MP, Minister of State for Health, said: "I applaud this pledge from Premier Sport as part of the Responsibility Deal, which will mean over 200,000 children in primary schools being given increased opportunities to be more active and to learn important life skills through sport.
"Using their network of over 500 coaches, Premier Sport will work in 1,000 primary schools – providing learning opportunities which will be enjoyable for children as well as teaching them the importance of being active throughout life."
The Public Health Responsibility Deal is an initiative designed by the Department of Health to tackle the challenges of obesity and inactivity. Organisations that sign up to support the initiative commit to taking action voluntarily to improve public health. Fred Turok, Chairman of the Responsibility Deal Physical Activity network, said:
"Premier Sport's commitment to the Responsibility Deal will have a real impact in inspiring and getting children at primary schools more active.
"It's vital we reach children as early as possible to help them appreciate the fun and benefits of being active, which they will hopefully carry with them throughout their lives. What strengthens this pledge is the work the Premier Sport advisors do to develop a plan with teachers, helping leave a real legacy for the school and future pupils."
Speaking on behalf of Premier Sport, Luke Miles, Director, said: "2012 is set to be the biggest year for UK sport since England won the World Cup in 1966 and we want to help develop a lasting legacy. Our pledge of £150,000 will give 200,000 primary school pupils across the country the opportunity to take part in a structured and professional physical activity."
Schools can apply for a free HPA evaluation day by calling a member of the Premier Sport team on 01953 499 040 or e-mailing info(at)premiersport(dot)org quoting: HPA/2012.