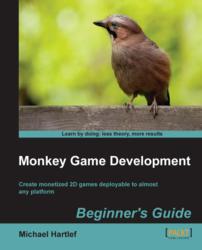 Birmingham, UK (PRWEB) May 13, 2012
Packt is pleased to announce the release of its new book Monkey Game Development: Beginner's Guide. Written by Michael Hartlef, this is the first book on Monkey which shows how to create and deploy games to most mobile and desktop platforms. It provides easy-to-follow step by step instructions on how to create eight different 2D games and how to deploy them to various platforms and markets.
Monkey is a cross-platform computer language which translates Monkey code into several target platforms. Currently the target platforms include Windows, Mac OS X, Android, iOS, HTML5 and Flash.
With this book one will learn important game development techniques like collision detection, handling player input with mouse, keyboard or touch events and creating challenging computer AI. Users will learn to quickly create eight classical games and publish them to the modern app markets. The author also explains how to emit particle effects, play sound and music files, use sprite sheets, load or save high-score tables and handle different device resolutions. Users can also use 3rd party modules like the fantomEngine game framework to speed up their game development process. The last chapter will show how to monetize the games to be commercially successful in the app market.
This book is a Packt Beginner's Guide, which is packed with clear step-by-step instructions for performing the most useful tasks. The book is now available in print and popular e-book formats, for more information please visit the book page: http://www.packtpub.com/monkey-2d-game-development-beginners-guide/book