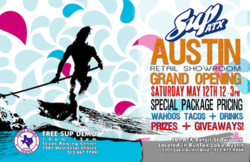 Austin, TX (PRWEB) May 12, 2012
SUP ATX is opening its flagship retail showroom doors to the public offering deals on all products. Located at 2201 Lake Austin Blvd, just off the Lake Austin Blvd exit on Mopac, the new showroom offers Austin-area water sports enthusiasts for the first time the opportunity to buy SUP ATX paddle boards, paddles, accessories and clothing in-store directly from the company.
SUP ATX is also offering paddle board rentals in partnership with the Texas Rowing Center, just a few short steps away from the showroom on Lady Bird Lake (formerly Town Lake). Rentals are always available, 7-days a week, during all daylight hours.
The Grand Opening Celebration will take place on Saturday, May 12, 2012. A free paddle board demo will be held from 10am - noon, giving anyone the opportunity to give stand up paddling a try at the Texas Rowing Center. From noon until 3pm at the new Lake Austin Blvd store, free food will be offered by Wahoo's Fish Tacos, free drinks provided by Red Bull and free SUP ATX hats will be given out to the first 300 attendees. A DJ will also be present providing music. Special deals will be offered on new and used SUP ATX board packages. Local promotional partner, FIAT of Austin, will also be present with a fleet of FIAT 500s available for test drives. Anyone who buys a FIAT with $0 down and 0% financing will receive a new SUP ATX board & paddle.
The opening of this new flagship showroom comes at an exciting time as the SUP ATX brand and the sport of paddle boarding is skyrocketing worldwide. "We are thrilled to connect with our customers directly in the Austin market" said Dale Rogers, SUP ATX's General Manager for Texas Operations, "the new showroom location together with our partnership with the Texas Rowing Center will give us vast opportunity to further advance the sport by supporting a more consistent and broader range of exciting local SUP related events and activities."
Come visit the new SUP ATX retail showroom at 2201 Lake Austin Blvd, Austin, Texas 78703. Visit http://www.supatx.com or call 1-866-4-SUPATX to learn more.
About SUP ATX
SUP ATX is the #1 Stand Up Paddle Board Maker on Earth! Founded in 2009, SUP ATX designs, develops and manufacturers SUPs for oceans, lakes and rivers worldwide. The SUP ATX line of SUPs have defined and revolutionized the SUP industry worldwide, officially moving the sport from the shores of Hawaii and Malibu to lakes, rivers and surfing areas everywhere. Quality, customer service, and value are SUP ATX's principles in delivering the best SUP in the marketplace. Visit: http://www.SUPATX.com/ or call 1-866-4-SUPATX to learn more.