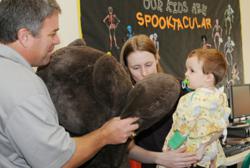 We could never do enough for these kids, but if we can elicit some smiles, then we did our job.
Houston, Texas (PRWEB) May 13, 2012
True to its commitment of helping those in need, members of Jackie Sherrill's Texas A&M 12thMak Kickoff Team Foundation will be on hand to entertain children at MD Anderson Children's Cancer Hospital Field Day on May 18.
The Foundation members (mostly past Texas A&M football coaches and players) will join the hospital and other supporters to stage a fun field day for the children and their families. Foundation President, Warren Barhorst and his team will man games, autograph footballs and books, and will have a full arsenal of fun giveaways for the children.
"We are thrilled to be invited to come and meet with the children and their families," says Barhorst. "We could never do enough for these kids, but if we can elicit some smiles, then we did our job."
In addition to its involvement with MD Anderson, the Foundation supports and makes charitable appearances at other hospitals across the state including the Scottish Rite Hospital for Children (Dallas) and the Emory Bellard ALS Clinic at Scott and White Memorial Hospital (Round Rock). The Foundation provides scholarships for Texas A&M students as well as encouragement to children facing health, family and/or financial adversity.
For more information:
http://www.12thmankot.org/
About the 12thMKOT Foundation
Created in 2007, the 12th Man Kickoff Team Foundation is a non-profit organization that provides scholarships to Texas A&M University students based on need. The Foundation is comprised of more than 80 former Texas A&M University football players, some of who serve on the Foundation's board along with Coach Jackie Sherrill, Dr. John J. Koldus and others. These players, along with Coach Sherrill, are the creators of the book "No Experience Required" that chronicles the 12thMan Kickoff Team. Making charitable appearances across the state and in hospitals, the Foundation is focused on creating a legacy of sharing, caring, and giving back.