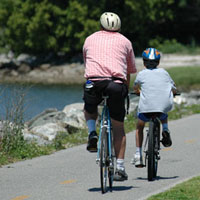 Talk to your children about bicycle safety. Remind them to use caution, obey all traffic regulations and be especially careful at intersections.
Lincoln, RI (PRWEB) May 11, 2012
As days get warmer and longer, bicyclists of all ages are heading to bike paths and city streets. It's also the time of year when bicycle-related injuries skyrocket. That's why Amica Insurance is offering bike safety tips as part of National Bike Safety Month, which runs through the end of May.
Deaths from bicycle accidents have decreased steadily during the past decade, according to the most recent statistics from the U.S. Department of Transportation (DOT). But these deaths could be reduced even further if bicycle riders of all ages, not just young children, wore helmets. In fact, 89 percent of bicycle deaths are persons 16 and older, and only about one in 10 fatally injured bicyclists were wearing helmets, according to the DOT report.
"Every bike rider should wear a helmet," said Lisa Melton, an assistant vice president with Amica Insurance. Choose a helmet that meets federal safety standards and is the correct size. A helmet should fit tightly on the top of the head and the straps should be secure under the chin. The helmet should not be able to move.
Here are a few other tips for bike safety:

Make sure your bike is the correct size – your feet should be able to touch the ground when sitting on the bike.
Wear bright, reflective clothing when riding.
Place a light and reflectors on your bike when riding at night.
Check the brakes and gears on your bike to make sure they're working properly, and make sure the tires are inflated.
Ride in the same direction as traffic.
"Set a good example for your children by wearing a helmet when you ride. Talk to your children about bicycle safety," Melton said. "Remind them to use caution, obey all traffic regulations and be especially careful at intersections."
Bike riding is a great way to have fun with your family and exercise, Melton said, so make safety your top priority and enjoy the ride this spring and summer.
About Amica Mutual Insurance
Amica Mutual Insurance Company, the nation's oldest mutual insurer of automobiles, was founded in 1907. The company, with corporate headquarters in Lincoln, RI, is a national writer of automobile, homeowners, marine and personal umbrella liability insurance. Life coverage is available through Amica Life Insurance Company, a wholly owned subsidiary. Amica employs more than 3,100 people in 40 offices across the country.
Website: Amica.com
Twitter: Amica
Facebook: Amica Mutual Insurance Co.