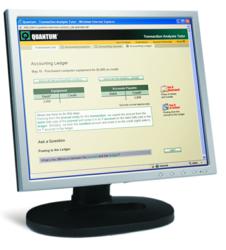 Quantum will help to accelerate our growth position in business education...to deliver individualized learning experiences for students and powerful analytic reporting tools for instructors.
Hoboken, New Jersey (PRWEB) May 18, 2012
Global publisher John Wiley & Sons, which provides content and content-enabled services for students and educators, researchers, and professional practitioners, has partnered with Quantum Simulations, Inc., a leading developer of artificial intelligence-based education products and services, to offer intelligent adaptive learning and assessment software with Wiley's print and digital textbooks, starting with Introductory Accounting through Intermediate Accounting. Known as the "language of business", Accounting is taken by over 1 million students per year by business and non-business majors as well as MBA graduate students.
"Quantum will help to accelerate our growth position in business education and demonstrate our commitment to using the most advanced technologies to deliver effective, affordable, and individualized learning experiences for students and powerful analytic remediation tools for instructors," comments George Hoffman, Wiley's Vice President, Executive Publisher for Accounting, Business, Economics, and Finance programs, Global Education. "With market leading accounting content, our goal is to help students learn more effectively while supporting our instructors by making their jobs easier. Combining our best selling titles with innovative technology such as WileyPLUS and – now – Quantum, we are poised to achieve that goal."
Published in numerous research papers and used at hundreds of colleges and universities, Quantum's adaptive learning and assessment software is proven to increase student test scores by at least a full letter grade. Quantum helps more students master the course material with less study time by combining advanced artificial intelligence technology, proven pedagogical techniques and content expertise from a wide range of subject matter experts to create individualized learning paths for every student.
In field research, students using Quantum's new "Targeted Practice" and "How Am I Doing?" self-assessment tools improved 35% in their ability to solve problems. Quantum also accelerated learning and reduced study time by an average of 36%.
"With today's advancements in communication and hardware technologies, the traditional models of teaching and learning are evolving as a new generation of learners emerge with anytime, anywhere access," states Rebecca Renshaw, Co-founder and CEO at Quantum. "Providers of educational materials are actively seeking effective ways to engage and transfer knowledge digitally to students in a very personal way and the Wiley/Quantum partnership offers a powerful solution to address this need."
For more information:
http://www.quantumsimulations.com/accounting.html
ABOUT WILEY
Founded in 1807, John Wiley & Sons, Inc. has been a valued source of information and understanding for more than 200 years, helping people around the world meet their needs and fulfill their aspirations. Wiley and its acquired companies have published the works of more than 450 Nobel laureates in all categories: Literature, Economics, Physiology or Medicine, Physics, Chemistry, and Peace.
Our core businesses publish scientific, technical, medical, and scholarly journals, encyclopedias, books, and online products and services; professional/trade books, subscription products, training materials, and online applications and Web sites; and educational materials for undergraduate and graduate students and lifelong learners. Wiley's global headquarters are located in Hoboken, New Jersey, with operations in the U.S., Europe, Asia, Canada, and Australia. The Company's Web site can be accessed at http://www.wiley.com.
ABOUT QUANTUM SIMULATIONS, INC.
Quantum develops unique artificial intelligence (AI) tutoring, assessment and professional development software for accounting, science and mathematics that empowers instructors and inspires students in K-16, adult learning and distance education programs to achieve more. Quantum's intelligent learning software is available stand-alone or integrated with web-based homework products and learning management systems. Through funding from the U.S. Department of Education's Institute of Education Sciences National Center for Education Research and the SBIR program, as well as the SBIR programs at the National Science Foundation and National Institutes of Health and in collaboration with educators nationwide, Quantum is realizing its vision of inquiry-based learning to teach students how to become better learners and independent thinkers. For more information, visit: