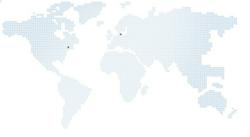 Visiopharm Corp will open an office in New Jersey to support partners and a rapidly growing user base in North America
Hoersholm, Denmark (PRWEB) May 14, 2012
Visiopharm A/S, a global leader in Quantitative Digital Pathology, announced today that Visiopharm Corp will open an office in New Jersey to support partners and a rapidly growing user base in North America
Visiopharm has experienced a sustained growth in the demand for Quantitative Digital Pathology research tools in North America, with a sharp increase following the recent introduction of Cloud Analysis and the APPCenter.
Digital Pathology specialist Roy K. Min now joins Visiopharm Corp as Regional Sales Manager of North America.
"We are very pleased that Roy is joining us. As an individual he has very high personal and professional standards. He has extensive practical experience with all key aspects of Digital Pathology and how these technologies can be successfully integrated in a research laboratory. We look forward to working with Roy in further building a strong US based organization", says Michael Grunkin, CEO of Visiopharm
Roy is based in New Jersey, United States, and responsible for further expanding sales- , technical-, and application support in the United States.
"I am excited about joining Visiopharm, and what lies ahead. I have known Visiopharm for several years, as a company committed to quality and innovation. I regard them as a leader in Quantitative Digital Pathology, and look forward to help our customers become successful when adopting this important technology for their research", adds Roy Min.
About Visiopharm
Over the past 10 years, Visiopharm image analysis and stereology software has become the preferred Quantitative Digital Pathology solution for leading biopharmaceutical companies, clinical researchers, and academic researchers all over the world. Visiopharm has more than 300 deployed systems worldwide and a large network of distribution and support partners, and is featured in over 400 scientific publications.