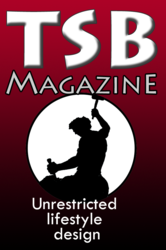 Hoboken, NJ (PRWEB) May 14, 2012
A recent survey conducted by the people at TSB Magazine, an online dating advice and men's interest site, showed that, for guys, the most frustrating aspect of dating is trying to communicate with a woman via text message.
Participants in the survey were asked to choose their biggest issue from a list of some of the most traditionally frustrating or confusing aspects of dating, approaching women, and romance.
Perhaps in a nod to the power of modern technology, text messaging woes eclipsed the more-standard options on the list. 32% of the men polled said that confusion about what to say in a text (read texting examples here) and when to send a message to a woman was the most frustrating aspect trying to start a romantic relationship.
Other respondents to the survey pointed to more traditional problems. The next most popular problems had to do with having a conversation with a woman and the awkwardness that comes along with an end-of-the-night kiss. 22% of the participants in this survey said that enduring a stalling conversation with an attractive woman who they have recently met was the biggest source of anxiety and frustration in the dating game. An additional 12% said that actually approaching women in the first place was their biggest source of dating anxiety.
After conversational stumbles, the "when " and "how" of going in for that end-of-the-night kiss was the next most widespread problem. 18% of respondents found awkward first kiss situations the most frustrating aspect of dating.
The other options on the survey included "having women see you are a friend, not a love interest" and "hitting it off with a woman only to have her shift her interest to someone else." These issues earned 10% and 6% of the votes, respectively. Yet, it was how to start a text conversation that had most men truly frustrated.
TSB Magazine has done other dating related surveys. It also publishes dating advice and general men's interest stories several times each day. The magazine has a publishing arm that offers dating-related ebooks, audiobooks, and courses. These books and courses, available for download through Amazon and through TSB's website, cover many of the topics that were included in the dating survey mentioned above.
Bobby Rio, founder of TSB, has written nearly a dozen books, with one of his latest being Magnetic Messaging, a playbook for guys who want to master the art of communicating and seducing women via text message. Other offerings from Rio and TSB include A Shy Guy's Guide to Talking to Girls: How to Turn Yourself into a Smooth Talker, which focuses on teaching guys how to step over the stumbling blocks that are keeping them from approaching women and engaging in stimulating and seductive conversations.
Bobby Rio's Amazon page has a full list of his books, while other materials are available directly from TSB's website. Rio offers a short presentation about his Magnetic Messaging course at magneticmessaging.com, and also covers the subject with a series of videos published on TSB's YouTube page.